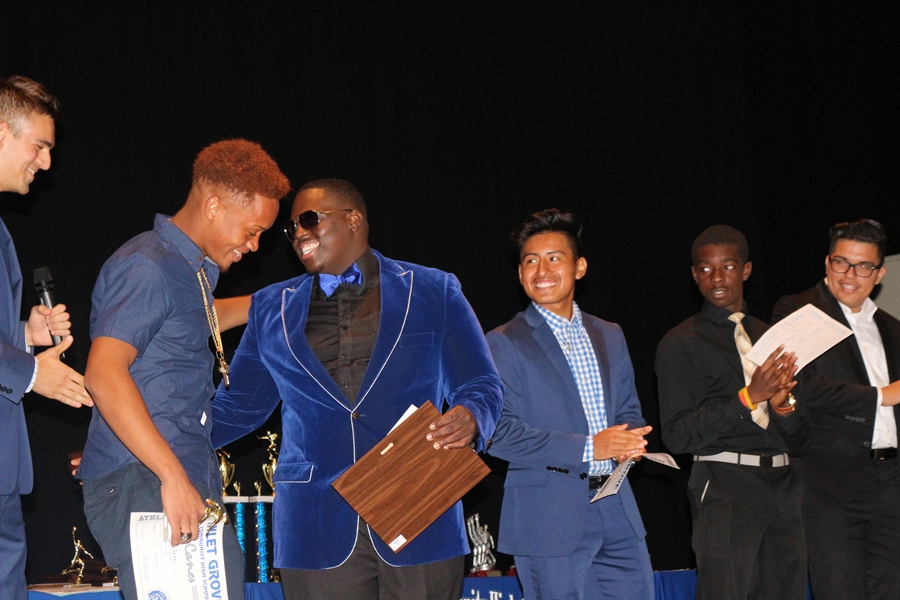 Brianna Luberisse
Athletic Director and Coach Michael Timpson hosted the Inlet Grove Athletic Awards Ceremony  where Hurricane sportsmen and sportswomen were acknowledged May 12.
Categories included Most Valuable Player, Male and Female Athlete of the Year, Coaches Award, Most Improved Player and Scholar Athletes.
The new Canes Cheerleaders also performed led by their Coach Jada Brown.
Ice cream and cake were served in the cafeteria after the program in the school auditorium.
Varsity Girls Basketball:
Toni Andrews — Best Offensive Player
Chanique Coleman — Most Improved Player
Jessica Dominique- Coaches Award
Kathleen Morvan — Defensive Player Award
Jasmine Simmonds — MVP
Varsity Boys Basketball:
Dharma Alcius — Coaches Award
Javaris Chevelon — MVP
Jaylen Joyce — Defensive Player Award
Christon Knowles — Most Improved Player
Dante Moses — Offensive Player Award
JV Boys Basketball: 
Marc Filsaime — Most Improved Player
Hawonce Luberisse — Coaches Award
Ranard Rolle — Offensive Player Award
Alexander Saint-Fort — Defensive Player Award
Jailen White — MVP
Freshman Basketball:
Renard Rolle — MVP
Alexander Saint-Fort — Defensive Player Award
Jermaine Sims — Offensive Player Award
Dontaye Strawter — Most Improved Player
Jevonnie Wilson — Coaches Award
Girls Soccer:
Roneshia Drakes — Coaches award
Fardaina Gedeon — Defensive Player Award
Jordan Hall — MVP
Jada Hall — Offensive Player Award
Jennifer Perez-mat — Most Improved Player
Boys Soccer:
Micheal Nunez — MVP
Wilkenson Milistein — Best Defense
Ronelson Elcine — Most Improved
Guenald Guerrier — Coach's award
Adrian Tackore — Best Offense
Flag Football:
Esmeralda Aguirre — Coaches Award
Krishan Burford-Fit — Most Improved Player
Shanelle Mitchell — MVP
Rachelle Rene — Defensive Player Award
Jennifer Perez-Mat — Most Improved Player
Boys Track:
Espritcare Jean — Coaches Award
Sherone Johnson — Most Improved Player
Wilhemsor Jean-Pierre — MVP
Girls Track:
Jordan Hall — Coaches Award
Lorie Montrose — Most Improved Player
Jennifer Palrisot —  MVP
Boys Football:
Butler Brown lll — Defensive player award
Antwuan Dixon — MVP
Frank Huggins Jr. — Offensive player award
Colin Kellar — Coaches Award