Hurricane season comes to an end
Hurricane season for the Atlantic coast, the Gulf of Mexico and the Caribbean seas in 2018 started June 1 and ends November 30. Hurricanes are tropical clones with maximum sustained winds of 74 mph (64 knots) or higher. Major Hurricanes can reach up to 111 mph winds.
Hurricanes are separated by wind speeds and put into categories of 1-5; with 1 being the least damaging and low wind speeds and 5 being extremely harmful and corresponding to a Category 3, 4 or 5 on the Saffir-Simpson Hurricane Wind Scale.
"Hurricanes are rated according to intensity on the Saffir-Simpson Hurricane Wind Scale. The 1-5 scale estimates potential property damage." – According to CNN news.
Before the season starts, meteorologists get together and predict how many storms they believe will occur.
"May 24, 2018 – The National Oceanic and Atmospheric Administration (NOAA) forecasts a 45% chance for an above-normal season," according to CNN news, "predicting that there is a 70% chance of having 10 to 16 named storms, of which five to nine could develop into hurricanes, including one to four major hurricanes (Categories 3-5)."
Hurricane Beryl
The first hurricane that formed in the Atlantic Ocean was Hurricane Beryl. It started out as a Tropical Storm Beryl and was spotted on July 5, 2018. The next day, Beryl strengthened into a category 1 hurricane. It hadn't made it to land when was downgraded back into a tropical storm and then continuing as a low pressure system moving over the northeastern Caribbean Sea.
Hurricane Chris
The second hurricane of the season was also started from a tropical storm, Tropical Storm Chris. The tropical storm formed about 150 miles south of Cape Hatteras, North Carolina, July 8th. 2 days later it strengthened into a category 1 hurricane but quickly weakened.
"Weakens to a tropical storm and then a post-tropical cyclone." – According to CNN news.
Hurricane Florence
Hurricane Florence was one of the major hurricanes that hit this year. Florence hit both North and South Carolina and Zone A of Virginia, forcing a mandatory evacuation for all 3 states. The major hurricane started out as a tropical storm that formed about 155 miles west of the Cabo Verde Islands and was spotted Sept. 1.
This storm went from a minor category 1 hurricane to a major category 4 hurricane in a day which eventually weakened back to a tropical storm while still far out in the Atlantic Ocean. However once it started to get closer to land it strengthened backed into a category 1.
About 750 miles SE of Bermuda, hurricane Florence made its appearance and strengthened once again except this time it hit land as a major hurricane Sept. 9. By Sept. 10 the major hurricane system started again as a category 3 hurricane and within a day it strengthened into category 4, ordering a mandatory evacuation for the coast of North Carolina, South Carolina and Virginia.
After 2 days of heavy rain and strong winds, hurricane Florence weakened to a category 2 hurricane.
"Although that means decreased wind speeds, forecasters still warn of a dangerous storm surge in coastal communities and flooding rain across a wide swath of the Southeast. Governors in five states and the District of Columbia declare states of emergency." – According to Cnn news.
After 6 days, hurricane Florence weakened into a tropical storm.The storm took the lives of at 49 people, "Including 37 fatalities in North Carolina, 9 deaths in South Carolina and 3 fatalities in Virginia." – According to CNN news.
After Hurricane Florence
Tropical Storm Helene
Tropical Storm Isaac
Tropical Storm Joyce
Tropical Storm Kirk
Subtropical Storm Leslie
Only a few of those tropical storms listed became hurricanes. But the ones that did: Tropical Storm Helene and Isaac didn't strengthen into strong hurricanes, not reaching more than a category 2 hurricane.
Hurricane Micheal
Hurricane Michael hit the Florida Panhandle at 2 pm EDT October 10, 2018 near Mexico Beach, FL. Michael had sustained winds of sustained winds of 155 mph and a central pressure of 919 mb.
"Michael was about 420 miles south of Panama City with 90 mph winds, and moving north at 12 mph. Hurricane warnings painted the Panhandle from the Alabama border to the Suwanee River, with a tropical storm watch reaching as far south as St. Petersburg," according to Kimberly Millers' new story titled: "Hurricane Michael: 'Confluence of awful factors'"
"Before Michael made landfall, about 30 million people were under a hurricane watch or warning, or tropical storm watch or warning, across six states (Florida, Alabama, Mississippi, Georgia, South Carolina and North Carolina)," according to wunderground.com.
A storm surge of over eight feet was already affecting the Panhandle, inundating many escape routes. Michael is poised to be one of the top-ten most intense hurricanes on record to make landfall in the U.S. according to wunderground.com.
Michael was the first major hurricane (Category 3 or above) to strike the Florida Panhandle since Hurricane Dennis in 2005, and the first Category 4 storm on record to make landfall in the Florida Panhandle.
The worst storm that area has ever seen, Florida Gov. Rick Scott said.
The U.S. Coast Guard has rescued more than 60 people and assisted nearly 300 by Friday evening, it said in a press release. 1.3 million people throughout six states were without power, including 604,831 people in North Carolina.
As Michael was dying down to a tropical storm watch it reached as far south as St. Petersburg.
Hurricane Season has come to an end
The tropics is clear according to meteorologist Glenn Glazer from WPTV. To learn more information about hurricane season go to https://www.nhc.noaa.gov/climo/
Leave a Comment
About the Contributor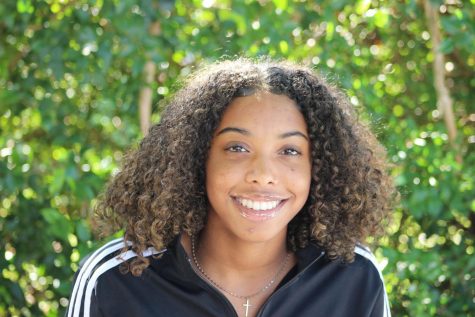 Kristha Zapata-Palacios, Co-Editor
Hey, my name is Kristha Zapata-Palacios. I am a Senior in the Marine Technologies Academy. I play Flag Football (#6) and I'm a 2 year varsity cheerleader....