Where is Mr. Myszkowski going on vacation?
Mr. Myszkowski, 12th grade assistant principal, will be leaving on April 22 for two months. He's going to the University of Florida Health Proton Therapy Institute in Jacksonville. However, he still will be attending the 12th grade graduation ceremony on May 16.
"Will I be back for graduation? Yes,"
Mr. Myszkowski has been diagnosed with prostate cancer and has sought out treatment at the UF Proton Therapy Institute. He was informed about the medical center by a former Pre-Law teacher Ms. Martens, whose husband is already at the institute.
Proton therapy is an advanced form of radiation therapy that uses protons instead of traditional X-rays. It targets and kills the cancer cells more precisely.
"This means less damage to surrounding tissue which results in a lower risk of side effects and a better quality of life during and after cancer treatment," according to floridaproton.org.
The traditional treatment time for the proton therapy is eight weeks with one dose of the radiation therapy each day. Mr. Myszkowski has signed up for the four-week program, which means he will get a double dose of the treatment for half the time period.
"I've applied to be a guinea pig," he said.
Mr. Myszkowski was turned down from the four-week treatment. Treatment is "randomized," he said. "Some get in and some don't."
He has already gone to Jacksonville and finished all requirements for the procedure.
"I've gone up there and done all the preparation so, now from Monday through Friday, zap, zap, zap, zap, every day," he said.
He's gone inside the building where the treatment will be taking place, seen the machinery that will be used and learned how it works.
He described "The compensator – something is carved into the middle of it and it shoots the radiation where it's supposed to. You lay on this thing and it moves forward into the machine and the little squares on the inside of the machine, come out of the wall."
"So when you go in, they go out," Mr. Myszkowski explained. "They are X-ray machines and they take X-ray pictures of your whole body. Once they know you are in the right position, they retract back into the wall and then shoot out the radiation treatment. It shoots directly wherever it's supposed to go without damaging anything."
He has talked to several professionals at the establishment and "Everybody who I've talked to up there said there are no side effects. You don't lose your hair or become weak."
Mr. Myszkowski said he wants to communicate to the medical students "especially the PN (Practical Nursing) students," to "broaden their horizon. There are more medical professions that our students are not aware of."
View Comments (15)
About the Contributor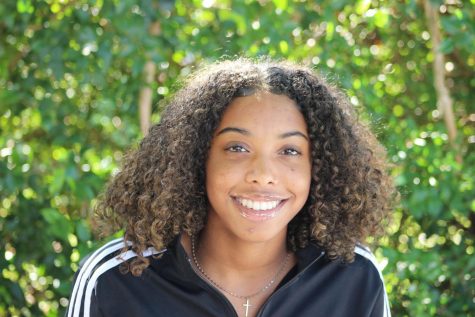 Kristha Zapata-Palacios, Co-Editor
Hey, my name is Kristha Zapata-Palacios. I am a Senior in the Marine Technologies Academy. I play Flag Football (#6) and I'm a 2 year varsity cheerleader....