Not your average officer
Over the last decade mass shootings in schools have become a major problem and called for the school district to take action. According to CNN there have been 22 school shootings in the U.S. as of 2019.
Florida new law requires armed security on every campus in the aftermath of the Parkland shooting. Inlet Grove very own school officer Ryan Strahan has served the community of West Palm Beach for 7 years now.
"I was inspired to be a police officer because of my stepfather Mark Bohne. In 1987 he was shot 5 times and survived. Because of this incident he created an BBQ fundraiser named LEAF, said Strahan."
LEAF stands for Law Enforcement Assistance Foundation and it assists law enforcement officers that are seriously injured in the line of duty in Palm Beach County.
"I've been working with the fundraiser since I can remember and it's just amazing."
Officer Strahan normally spends his school day walking around the campus to ensure the students and facility are safe. He's been with Inlet for what would be a year in November of 2020.
"This isn't the first school I've worked at, I was an emergency response for four years of my career. But I've been at Turning Points, Palm Beach Lakes, and probably all the middle schools in west palm," said Strahan. "I like elementary schools and high school kids, but not so much middle school."
Strahan even had the opportunity of working with the Secret Service when Ivanka Trump visited inlet in 2016. He also provides the service of Dignitary Protection and is a certified S.W.A.T team member. Strahan is a teacher himself as well.
He teaches the GREAT (Gang Resistance Education and Training) program, defensive tacting, and active shooter response on a federal level.
"I really enjoy doing this stuff, being a school officer is really different from being on the streets. I get to see the same 804 faces everyday versus being on the streets, where you're just responding to negative things," said Strahan."I love that an officer is required at every school now because kids get see how an officer really is rather than what they see online or what they heard."
Leave a Comment
About the Contributor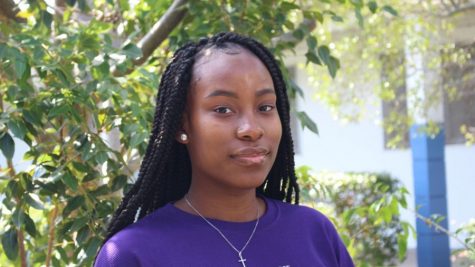 Hannah Snow, Co-Editor
I'm Hannah, a Senior in the Journalism Academy. I enjoy writing about the society, new fashions trends, and stereotypes on cultures and people. Being...