Another unarmed black man killed by policemen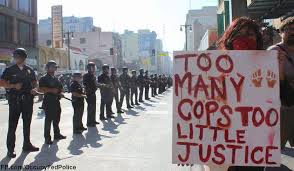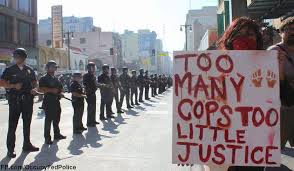 Does the law really protect you? How about the homeless man called Africa who was killed by policemen on a Los Angeles street March 2?
We all know that police brutality has been happening for a long time in various parts of the world. Not only with Trayvon Martin here in Florida and the shooting that left Michael Brown dead last year in Ferguson, Mo., but also back before the era of touchscreen phones and tablets.
Police brutality happens often in places where crime is common. You may say that officers are just doing their jobs. But how would shooting 12-year-old Tamar Rice in Cleveland for playing with a toy gun be a proper way  to uphold justice?
These acts aren't as common as they were in the 1980s or '90s in places like New York, New Jersey, Compton, South Central L.A., and others where living was difficult as officers acted in brutal ways to uphold justice and interpret the law. Songs by N.W.A in 1989 criticized the behavior of police and gave the views of people who opposed it. These interpretations were often graphic to some, but would you express acts and behaviors like this as fairy tales?
Even President Barack Obama weighed in this week, saying change is needed to build trust in police. "The movement is now for us to make these changes."
Long story short, many civilians in many states have witnessed and may have even been victims of police brutality. You may say that there is a right and wrong way to go about it, but just picture yourself being wrongfully accused of something you didn't have anything to do with. You are trying to state your innocence, and all you get in return is a threat or a beating from those who are supposed to protect.
Ask yourself, how would you go about expressing your views on this behavior? Would you explain it like they were just doing their jobs and you may have been in the wrong? Or would you just say it the way you feel?