Wayward sign of political times
The political views of teachers and faculty should not be known to students. Yet in front of our school is a sign that spotlights the penny sales tax and seems to encourage voter support for it in the Nov. 8 election. Having a sign at the entrance to a school is similar to the school saying, "Hey, this is what we believe in so should you."
The ballot item proposes an increase of 1 cent in the Palm Beach County sales tax mainly to fund repair, safety and technology projects. A Palm Beach Post editorial said the tax hike will greatly help.
"The Palm Beach County School District, the county and most of its cities are badly in need of more money," the Post said. "For years, the state Legislature has stiffed school construction and maintenance budgets. And a recession put the brakes on upkeep for roads, parks and other basics. That's the short answer to why you should vote 'For' a penny increase in the county's sales tax, from 6 cents to 7 cents, on the Nov. 8 ballot. But here's another answer: jobs . An estimated 46,000 temporary and permanent local jobs over the next decade, according to the county."
I neither agree nor disagree with the views expressed by the sign in front of the school, only its location. Students are easily persuaded by those whom they trust. Well, students trust their teachers and believe what they have to say. If the sign in front of our school  represents their teachers' beliefs then it influences the students who trust their teachers. I am all for mind control and taking over the world, but a place wherein you influence the thoughts of children is a sketchy one.
This sign not only influences students; it gets teachers as well by convincing them that all the other teachers feel this way. A little sign causes an ideology to percolate and soon you have mindless voters who are not expressing their opinions but just mimicking the only opinion they remember: a sign's.
The great psychological trickery that is being used is not some new sophisticated idea. It is called peer pressure. Politics has its place and the school is not it.
Leave a Comment
About the Contributor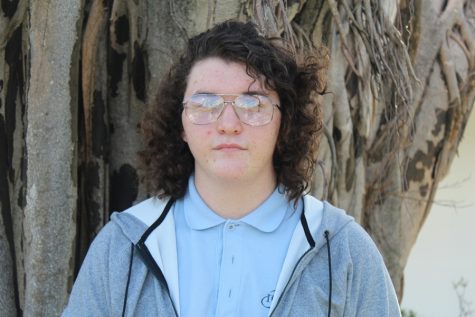 Dillion McClain, Staff Writer
My name is Dillion McClain, I  am a senior in the Journalism Academy. I enjoy spending time with my buddies and meeting new people, especially when they...