'You are Martin Luther King'
Keynote speaker Ava L. Parker, president of Palm Beach State College, challenged listeners to take action rather than be complacent, during her keynote speech at the 36th Annual Martin Luther King, Jr. Scholarship Breakfast.
"You have to do something," Parker told the 800 attendees on Jan. 16 at the Palm Beach County Convention Center.
"I'm not sure that in 2017, marching is going to move the needle. The question should be, 'What are we going to do next, to make sure we experience the change we want in our country?'"
"Defend the dream united; promote non-violence, social justice and positive behavior" was this year's theme for the Martin Luther King, Jr. Coordinating Committee, the sponsoring organization led by Executive Director Edith C. Bush.
Once again the organization recognized exemplary students with awards in competition categories ranging from oratorical to essay, art to photography.
For example, Ruchama Lafontant, Inlet Grove Medical Academy  senior, won this year's first place trophy for her MLK essay.
In addition, the Hurricanes' Victoria Lawrence was the second place Oratory Contest winner; Starlia Dormeus won second place and an honorable mention in Photography; and Rachelle Rene earned an honorable mention in Essay.
In presenting the awards, Coordinating Committee member Annie Harrison-Nelson thanked the judges and participants, and encouraged parents and teachers to get more students involved next year.
The 2017 Martin Luther King program had a focus, said Hyacinthia Becton, president of the Martin Luther King, Jr. Coordinating Committee, which was that everyone needs a vision. "And that vision was repeated by several people who didn't appear to be connected," she said, "but the message was connected."
Other speakers and dignitaries at this year's breakfast included the master of ceremony, State Sen. Bobby Powell, Jr. Brealauna "Breezy" Leassear, a senior at The Benjamin School, encouraged young people in the room to make a difference in their generation.
"The country, our country, is one that was built on a moral fiber that unfortunately seems like it's just floating away before our eyes," said keynote speaker Parker. "It's almost like it feels like it's just sand going through our hands, and we just don't quite know what to do about it. Because you see we don't have another 100 years. I'm not going to wait until 100 years from 1965 for us to finally get things right.
"I think we need to get things right, right now," Parker added. "We need to start today. Please, oh please, don't just sit and wait for the next Martin Luther King for us to get this right. Because today, you are Martin Luther King."
The MLK Coordinating Committee's activities will continue through Feb. 17. For more information call 561-832-4682 or visit www.mlkcc-1444.org.
Editor's note: A version of this story also was published in the South Florida Times newspaper.
View Comments (3)
About the Contributor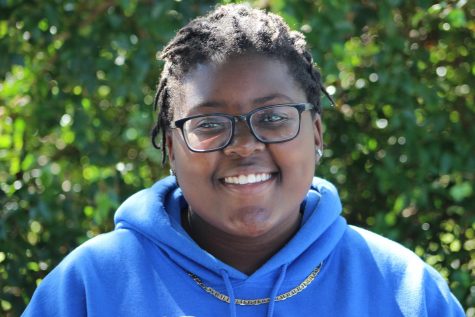 Brianna Luberisse, Editor-in-Chief
My name is Brianna but you can call me Bri or B. I am a Senior in the Journalism Academy. Aside from belching Beyonce songs, I like to help people, take...