The art of literature makes Myszkowski Teacher of the Month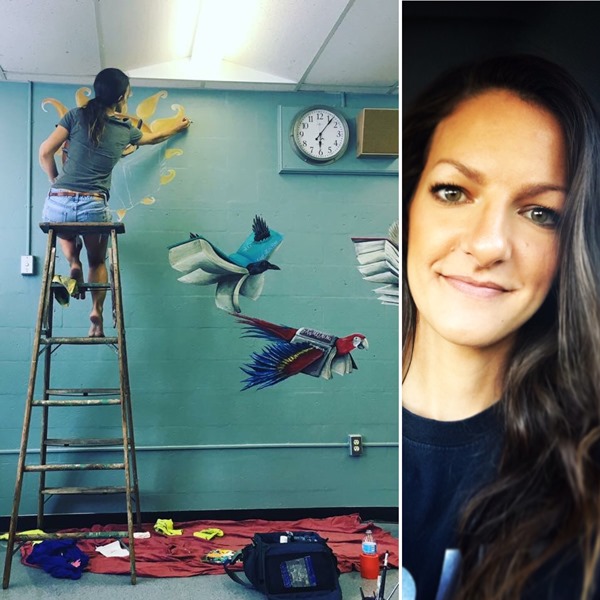 "It feels good to be appreciated," said Kelley Myszkowski, English teacher and Teacher of the Month, "but that isn't why I do what I do."
Mrs. Myszkowski added that it was one of her own high school English teachers – "Mrs. Gorence" – who helped her to understand "the art and the freedom behind literature," and inspired her interest in teaching English.
"Art has always been my passion," Mrs. Myszkowski said, "and literature is simply art in the form of words. Art is all about perspective: being able to look at something a certain way and seeing all the tiny things that work together to create something beautiful."
That helps explain why Mrs. Myszkowski helped develop the Dr. Ben Carson Reading Room on campus.
"I worked 12-hour days for two weeks, 7 a.m.-7 p.m., to make sure that the Reading Room was everything that the kids wanted it to be," she said. "I want them to find the same escape that I do when I am able to read in a cozy spot without distractions."
Mrs. Myszkowski mentioned that reading exercises one's thinking skills and imagination and ultimately will make one more intelligent.
"I know I sound like a broken record, and everyone has heard it before, but it's true!" she said. "For so many of these kids, their only way they can escape their current situation is through education, and there isn't a more powerful tool to ensure success in one's education than reading."
Mrs. Myszkowski and the English Department have scrutinized the Florida Standards Assessments (FSA) Reading and Writing practice test to help prepare the students for the FSA.
"As a department, we have analyzed this test through and through and created a strong curriculum that covers each possible essay, grammar/language question, literary analysis, and rhetorical analysis," she said. "We want the students to pass and feel confident when they sit for the tests."
Mrs. Myszkowski also prepares students for the FSA by communicating to them the importance of the test. "Passing this test is a graduation requirement, and the sooner they pass it, the sooner they can focus on their future."
Some difficulties Mrs. Myszkowski said she faces as an English teacher are analyzing and evaluating the way her students think about the words they see and write on a page.
"We work on adjusting and building those thinking and writing skills," she said. "This is a difficult task, especially when each student thinks and learns differently."
Some advice she said she could provide for other English or Language Arts teachers is to smile, laugh and "master the art of being snarky."
"Figure out what your students love and what they need to know in order to be successful after high school," Mrs. Myszkowski said.
"This should be the foundation of your curriculum."
View Comments (1)