Bethune alumni honor HBCUs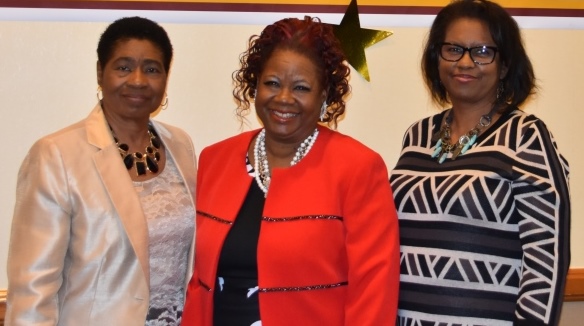 Formal education was actively denied to African Americans prior to the Civil War, particularly in the South. Higher education was almost nonexistent.
One result: Historically Black Colleges and Universities (HBCUs) emerged during the Jim Crow segregation era, providing postsecondary education to African Americans.
Those predominantly black spaces not only have produced countless giants – whether United States Supreme Court Justice Thurgood Marshall (Lincoln University) or Bethune-Cookman University founder Mary McLeod Bethune (Barber-Scotia College).
Through the years, HBCUs such as Cheyney University of Pennsylvania (founded in 1837 and recognized as the oldest HBCU in the United States), and Florida Agricultural & Mechanical University (the nation's largest HBCU by enrollment), and others, have provided a supportive atmosphere for the fight for civil rights, equality, and black liberation.
"The continuation of generations of history is intertwined in all HBCUs," said Sylvia Gibson, a second-generation Bethune-Cookman graduate, and president of the Palm Beach County Chapter of the B-CU National Alumni Association. "They provide a feel of family, not just numbers, as well as a solid education that is accepted at universities worldwide, and a network that is beneficial to young alumni."
Bethune-Cookman, for example, was established in 1904 by Mary McLeod Bethune as the Daytona Educational and Industrial Training School for Negro Girls; merged in 1923 with the Cookman Institute of Jacksonville (founded in 1872); became a two-year college in 1931; and gained its title as a university in 2007; while developing an impeccable reputation and preparing young women and men for productive futures.
That rich history of HBCUs will be celebrated when the Bethune-Cookman University Alumni Association hosts its 13th Annual Historical Black Colleges and Universities Luncheon, Saturday, Feb. 25, 11:30 a.m. at the Embassy Suites Hotel in West Palm Beach.
"This year we are recognizing professional business owners and entrepreneurs who had a vision and moved forward on that vision to impact their communities," said Gibson. "We also want to raise scholarship funds to support local Palm Beach County students who choose to attend Bethune-Cookman University."
Table hosts will include "Old School" BCU Wildcats and their former National Football League teammates – such as NFL Hall of Famer Larry Little, and fellow former Miami Dolphins Nat Moore and Dwight Stephenson – as well as "New School" Wildcat football players such as Alphonso Wilson, O'Neal Dozier, John Osborn and Darvin Johnson.
This year's keynote speaker will be Lee Rhyant, B-CU graduate, former trustee, retired executive for Lockheed Martin and Rolls-Royce Aerospace, and current president of LER Solutions. During his 33 year in executive roles, Rhyant has led multibillion-dollar operations through crisis to prosperity.
"I've learned that people will forget what you said, people will forget what you did, but people will never forget how you made them feel," Rhyant said, channeling one of his favorite quotes from Maya Angelou. "I never forgot how people made me feel, even when I was told I wouldn't be who I am today."
Making a musical guest appearance will be the Bethune-Cookman University Concert Chorale. The $65 per person ticket donation will benefit the scholarship fund. For more information call (561) 596-6042 or (561) 632-3430.
Although the Civil Rights Movement helped open admission to traditionally white institutions, many African-American students choose to attend HBCUs, which still offer a key component of American higher education
"The HBCU experience offers a history that is rich, unique and like no other," said Jolisa Ford, another B-CU alum. Beyond the diversity, she said, "they take the time to make sure their students are aware of African-American history as well as the school's history."
Editor's note: A version of this story also was published in the South Florida Times newspaper.
Leave a Comment