Rodeania Peart, medical hero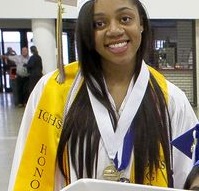 "Hard work really does pay off," says Rodeania Peart, a senior and 2015 valedictorian for Inlet Grove Community High School.
Peart has won this year's Heroes in Medicine Award, in the student category, given to an individual who shows involvement in the healthcare field and commitment to helping others.
Peart was recommended for the award by Inlet Grove Medical Academy teacher Rebecca Blair. "I nominated Rodeania because she possesses a strong work ethic and dedication to helping others that she attributes to her hard-working Jamaican immigrant parents," said Ms. Blair.
The annual Heroes in Medicine Award has honored individuals and organizations throughout Palm Beach County who use their skills and resources in the field of health care to provide outstanding services for the people of the local, national, and global community.
"I became a finalist and was interviewed by a panel of four judges," Peart said. She has volunteered in such locations as the Palm Beach Gardens Medical Center emergency room, Kindred Hospital and Seminole Trails Elementary School, as well as for the Red Cross, teaching cardiopulmonary resuscitation (CPR) to members of the community.
"Life wasn't easy as a child," Peart added. She said she had to deal with a brain tumor at the age of 9 that grew bigger along with a hydrocephalus. She had five surgeries by the age of 14. Her motivational support came from her family and friends who helped her gain strength and confidence to successfully overcome her medical issues, she said. "It was tough at the time, but they gave me enough courage to fight through it."
Peart said she hopes to use her strengthened spirit and personal medical experiences to fuel her ambition to one day become a neurosurgeon and help others with health issues like her own.
"I have planned my life ahead of me already," she said," and I'm prepared to take the next step closer to success."