Bell Cirius wins coveted scholarship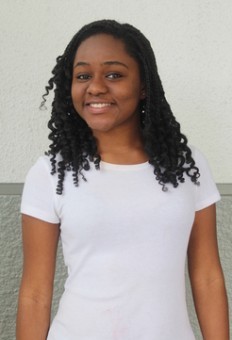 Once every year the Bill and Melinda Gates Foundation gives high school students the chance for a scholarship that finances their education through graduate school. This year Bell Cirius, a senior at Inlet Grove Community High School, was a winner from among 57,000 applicants for the scholarship.
"My faith will lead me to a victory," said Cirius. That isn't to say that she was not worried after seeing some of the accomplishments of the previous winners. Once she learned she was among them, she said, she asked herself, "Can that really be me?"
Cirius said she really needed the scholarship help because it is the only way she is able to go to college. Her father has 14 children to take care of. Her mother lives in Haiti without a job sufficient to pay for university. "I could not have done this on my own," said Cirius.
She was nominated by Lonnie Martens, an attorney who became a Pre-Law instructor at Inlet Grove a week after Cirius joined the school as a freshmen. "Ms. Martens is my role model and is the reason I wanted to be a lawyer," Cirius said.
Cirius was not the only Inlet Grove student who applied, but she said that "Everyone else from Inlet Grove who entered was a role model to me and they were excellent students." Bell is planning on using her scholarship to go to the University of Miami and major in Business Administration and Legal Studies.
The Gates Foundation said there were 5,000 scholars chosen as winners from across the United States. Her odds were not great but Cirius said, "God will help me to win." When she won, Ms. Martens said she was extremely excited.
The Gates Millennium Scholars Program (GMS) has a high pay rate.  "Individuals selected as Gates Scholars will receive funds in an amount to be determined by GMS based on financial need," according to gmsp.org. "The award will be based on the cost of tuition, fees, books and living expenses for the 2015-2016 academic year, as well as the availability of grants and other scholarships reported on the financial aid award letter."
In order to receive this scholarship a student has to be considered not only  a low-income U.S citizen but also deserving, meaning they have to be a hard worker and have an accumulative grade point average of 3.3 or a GED. Numerous community service hours also are required, as is U.S citizenship.
Cirius encourages others to try their best, saying "When you first start your educational journey, find your inspiration as soon as you can."