Fans cheer the Blue and White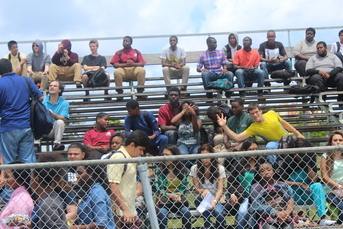 The Inlet Grove Community High School Football team kicked off the season with the Blue vs. White scrimmage on Friday, May 29.
The entire school turned out to enjoy the afternoon that started with rain but didn't drown out the cheers.
Students, staff and parents enjoyed the game, vendors and more.
A scrimmage is a practice game rather than an official game in American football, hockey and other team sports. A scrimmage doesn't count as a regular season game, but helps the team learn what to do in a real game.
"I want everyone that comes out for the Blue vs. White game to just really have a good time and also get involved in all the other activities we will have out on the field," Coach Terry Braden said in the days before the game.
The Hurricanes' official first game of the season will take place on Aug. 21.