Rally the Canes!
It's Friday Jan. 19 at Inlet Grove, and the Canes are beginning to pour into the gym for the first Pep Rally of the year. The chatter between friends is high in the atmosphere, along with the sounds of footsteps scurrying onto the bleachers.
The academic body is gathered to celebrate their fellow student athletes: the Lady Canes soccer and basketball teams, the boys' soccer team, and especially both the JV and varsity basketball teams, who have a game later that day.
After the presentation and introduction of the teams, who show up in their numbered jerseys and latest Hurricanes jackets, pictures are snapped and the crowd sends them off with applause.
Cue the drumline, who step lively and into a rhythmic beat.
"I think the drumline is cool because they play really well and also incorporate dance moves while doing so," said Janie Aviles, a freshman in the Culinary Academy.
The next segment is Grove Games, in which students are pulled from the crowd to participate in mini-matches against each other. The mini-matches include shooting hoops, kicking soccer balls into a net, and musical chairs.
The musical chairs game really spark up the crowd, because even the adult faculty takes part, like Coach Donovan and Mrs. Pientka this year, and kids can go ahead and cheer on their favorites.
"It really brings us all together. Teachers and kids," said Maria Escado, a junior the Medical Academy.
The Pep Rally then comes to a close with student Elijah Maye, otherwise known as "Lil Ugly Duckling," taking the spotlight to spit out a flow. People sing along to his words, while others take out their phones to film his performance and later update it to social media.
The announcements booming over the walls announce dismissal, and everyone begins streaming out of the gym.
"I always look forward to pep rallies because everyone gets to express their school spirit while clubs like the Drumline and Dance Team perform to cheer on our sports teams," said Alyssa Tenorio, a junior in the TV & Film Production Academy.
Leave a Comment
About the Contributor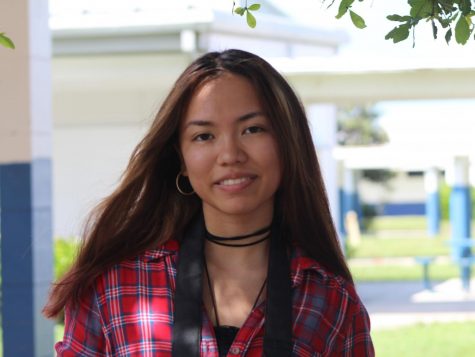 Genesis Vicente, Entertainment Editor
Hey, my name is Genesis and I'm a junior in the Journalism Academy. I'm a huge modern rock fan, and I aspire to become a film director, like Quentin Tarantino...