Top 10 movies of the summer
When summer rolls around, so do the sun, the fun and the blockbusters. And the hot summer of 2018 brought some huge box-office triumphs for audiences to enjoy with a big bucket of popcorn.
This year there was definitely something for everyone to see, from horror hits to comic-book sequels. But which are worthy enough to be a part of our Top 10 list?
Here are some of the best flicks of the season:
10) Ant-Man and the Wasp
Starting the list is one of the latest hits from the massively successful Marvel Cinematic Universe. The sequel to the original 2015 Ant-Man centers on retired hero Scott Lang, once again called to don the Ant-Man suit and save the world. This time help comes in the form of Hope Van Dyne, aka The Wasp. Filled with endless humor and immensely comedic performances by Paul Rudd and Michael Pena, Ant-Man and The Wasp packs a giant punch in a pair of pint-sized heroes.
9) The First Purge
Gerard McMurray's The First Purge tells the story of how the annual eve of crime came to be. In the near future, where the government is no more, the New Founding Fathers of America propose an experiment to lower crime rates. On Staten Island, Dr. May Updale and her colleague Arlo Sabian propose a 12-hour time period where any and all crime is legal. While some are hesitant to accept it, others revel in its glory, taking advantage of it and expressing their desire to "purge" their neighborhoods. The First Purge gives a dark insight into the twisted human mind, and makes an exceptional addition to the series.  
8) Ocean's 8
An all-female cast studded with stars like Anne Hathaway to Rihanna, Oceans' 8 brings out the girl power that Hollywood needs. Sandra Bullock plays the clever Debbie Ocean, a professional thief ready to pull off the biggest heist of her life with her diverse group of specialists, hackers, and street cons. A mix of comedy and action, Ocean's 8 will make you cheer on these charismatic — and butt-kicking– women in every step of their mission. So move aside George Clooney and Brad Pitt, because there's a new Ocean's crew in town, and these women are a real fashionable force to be reckoned with.
7) Solo
Never tell him the odds. The second spin-off from the iconic Star Wars series, Solo deals with the backstory of one of the most beloved characters in pop culture: Han Solo. Before Luke, before Leia, there was the young orphaned pilot who wanted to be a hero. Follow Han as he escapes from captivity on his home planet of Corellia, to go on to meet his loyal co-pilot and friend, Chewbacca, to taking down fancy space mobsters who want nothing more than his head on a platter. Alden Ehrenreich stars as Han Solo, Emilia Clarke from HBO's Game of Thrones plays Qi'ra, and Donald Glover, or "Childish Gambino" surprises as Lando Calrissian. 
6) Jurassic World: Fallen Kingdom
More roars, more claws, and more teeth. The sequel to Jurassic World, Jurassic World: Fallen Kingdom deals with the aftermath of the theme park's destruction on the island of Isla Nublar. Chris Pratt and Bryce Dallas Howard reprise their roles as Owen Grady and Claire Dearing, two former workers from the infamous amusement park that decide to return to the island to help save the remaining dinosaurs from an active volcano on the brink of eruption. 
5) Deadpool 2
This time, he's not coming alone. Fox Studio's sequel to the extremely high-grossing Deadpool is finally here, and it doesn't miss a beat. Wade Wilson is back with new and old pals to save troubled young mutant Russell, who has recently become the target of a one-eyed cybernetic soldier from the future. Once again Ryan Reynolds holds court as the wisecracking title character, but new stars Josh Brolin and Zazie Beets steal the show as the ruthless Cable and lucky Domino.
4) Mission Impossible: Fallout 
Cue the music, Tom Cruise has returned in the sixth installment of the Mission Impossible franchise to grace us with another suspenseful spy thriller. Taking place two years after Mission Impossible: Rogue Nation, Ethan Hunt and his IMF team are back in the field trying to stop a group of terrorists dubbed "The Apostles" from getting their hands on nuclear weapons that could spell out certain doom for the world. Starring Man of Steel actor Henry Cavill as CIA agent August Walker; Mission Impossible: Fallout is full of compelling twists, great performances, and an appreciable amount of action that will keep you at the edge of your seat and wanting more.  
3) BlacKkKlansman
Based on a "crazy, outrageous and incredible" true story, Spike Lee's most recent film tells the story of African-American detective Ron Stallworth's dangerous mission to infiltrate and expose the Ku Klux Klan. Enlisting the help of Jewish colleague Flip Zimmerman, both men find themselves having to face the mental and physical obstacles of their investigation, all while dealing with the large issues such as police racism and violent riots that plagued America in the 1970s. John David Washington makes his acting debut as Stallworth, while Star Wars' Adam Driver plays Zimmerman. BlacKkKlansman is a powerful film, and should not be taken for granted.
2) Incredibles 2
Finally, after 14 years, the long-awaited sequel to The Incredibles is here! Pixar Studio's beloved superhero family returns to set out a new line of heroics, all while continuing to try and lead a "normal" life. When Helen Parr (Elastigirl) is called away to resume hero work for a communications corporation, her husband Bob (Mr. Incredible), much to his dismay, is forced to sit on the sidelines and take over house-duty with his three kids Violet, Dash, and Jack-Jack. And its not as easy as it sounds either, especially when Jack-Jack, the youngest of the three begins showing signs of his superpowers. Filled with fun for the whole family, Incredibles 2 is one of this summers movie that really lives up to its "incredible" hype.
1) Avengers: Infinity War 
Ten years in the making, with 19 films total, the Marvel Cinematic Universe has been building up Avengers: Infinity War since Iron Man first came out in theaters in 2008. Deemed as the biggest crossover of all time, Avengers: Infinity War incorporates more than 30 characters, new and old, into one big challenge to save the universe. When Thanos, a powerful titan, embarks on a quest to find the legendary infinity stones to obtain the power to eradicate half of humanity, the Avengers realize they are now faced with their biggest fight yet, and that to win it, some might have to lose. Marvel veteran actors Robert Downey Jr., Chris Hemsworth, Chris Evans, and more reprise their roles as Earth's Mightiest Heroes, along with new faces like Academy Award nominated actor Josh Brolin, who plays the evil Thanos. All in all, Avengers: Infinity War will make you laugh, cry, and maybe not feel so good, but in the end, it'll definitely make you feel something.     
These were our top picks of the summer's many blockbusters, all the way from Pixar Studios to Spike Lee.
Do you agree?
View Comments (4)
About the Contributor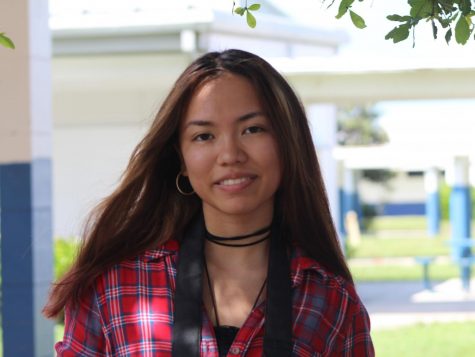 Genesis Vicente, Entertainment Editor
Hey, my name is Genesis and I'm a junior in the Journalism Academy. I'm a huge modern rock fan, and I aspire to become a film director, like Quentin Tarantino...