Did Canes meet future governor?
Back in March, two Hurricanes were among the first in South Florida to converse with a man who has his sights set on the highest seat in Florida.
Tomorrow, GroveWatch Editor-in-Chief Brianna Luberisse and Pre-Law Staff Writer Aaliyah Tatoute – along with Tallahassee Mayor Andrew Gillum and the rest of the state and nation – will learn whether Gillum still has a chance to grab the keys to the governor's mansion.
Gillum is running for his party's gubernatorial nomination in Tuesday's primary election, along with fellow Democrats Gwen Graham, Jeff Greene, Phil Levine and Chris King.
The contest is one of dozens of Florida's Aug. 28 primary elections that will decide party races ranging from U.S. Senate to local school boards and judgeships.
Many voters already have weighed in during the early voting period. In the November's General Election voters will choose between the Democratic and Republican Party primary winners.
That means Gillum would first have to win his Democratic Party nomination.
The Canes got the opportunity to hear Gillum's views and what he could do for the state should he become the governor courtesy of South Florida Times newspaper publisher Robert Beatty and his wife Michele.
The couple hosted a "Meet & Greet" with the candidate in their Miramar home, to which the students accompanied Journalism instructor Mr. Hanif, a former managing editor of the newspaper.
Gillum, the only African-American and non-millionaire in his race, is known for his efforts to expand affordable and quality healthcare, and prevent gun violence. His promise to the people is to "rebuild Florida into a state that works for all of us." His endorsements include 2016 presidential candidate Bernie Sanders.
The National Rifle Association has twice sued Gillum over his push for gun law reform, both cases the mayor ended up winning.
Regarding the rising gun control issue due to the February massacre at Marjory Stoneman Douglas High School in Parkland, Gillum said: "We need fewer guns … We need background checks, we need mental health checks… We need to do what we can to keep our children safe."
The evening was filled with questions and answers while guests also helped themselves to a buffet.
Gillum spoke about his proposed investment in schools and teachers, the "Fair Share for Florida's Future" plan, and the creation of the Community Connections Restorative Justice Program, which helps local youth offenders alter their life trajectory and develop peaceful communication skills.
"When I met Gillum, I felt as if he would actually make a difference," said Luberisse, a junior in Journalism, "and that he would pay attention to things that are urgent and pay attention to what needs to be discussed later and what needs to be dealt with immediately."
He is one reason many eyes are expected to be watching Florida's election returns.
View Comments (2)
About the Contributor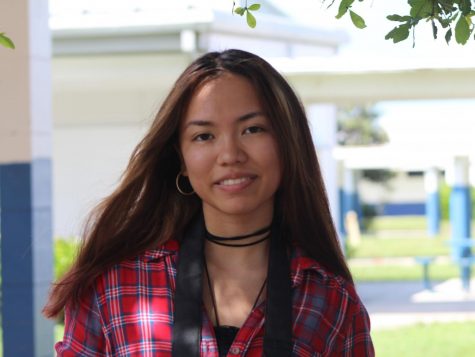 Genesis Vicente, Entertainment Editor
Hey, my name is Genesis and I'm a junior in the Journalism Academy. I'm a huge modern rock fan, and I aspire to become a film director, like Quentin Tarantino...