A digital aspect
Sitting in Florida State's University library watching basic tutorials on Adobe Photoshop and Illustrator at three to four in the morning is how Digital Design teacher, Ms. Baker got certified.
With Digital Design not being her first career choice, Ms. Baker started as a freshman at FSU as an advertising major, but later moved into International affairs.
"I always wanted to have a creative outlet, so I started in advertising, but I got kinda antsy in my first two years because I didn't have all my major classes," Ms. Baker said. "So I switched majors and I became an International Affairs major my sophomore year up into my junior year."
It wasn't till Ms. Baker's senior year when she went to a community college and got certified in Adobe Photoshop and Illustrator, all the while teaching herself.
Collaborating with Model and photographer friends such as, Canadian-American actor, comedian, and internet personality, King Bach, is how Ms. Baker built her resume.
"I had friends, one friend that was a photographer and one that was a model, I had a friend that was a makeup artist and we all collaborated and then I created projects out of them." Ms. Baker said.
'Getting lost in the sauce' is how Ms. Baker described her experience in the Digital Design field. Starting from scratch, Ms. Baker decided that after college she wasn't going to go the International Affairs route and instead got her first job out of college as a Graphic designer and later expanded into video editing.
The multimedia wheel is one of the reasons why Ms. Baker decided to come to Inlet, another being trying to get kids to tap into that 'creativity spark.'
"A lot of kid see Photoshop and think it's a super complex program when it's really not, and it's so much that they can do," Ms. Baker said. "If we can get more kids to dive into this program, you will tap into something that you never knew you had."
With being able to get out of the country by the age of eight and getting a culturally diverse background due to her mom having friends of different ethnicities, Ms. Baker feels as if she could present something new to the kids of the Digital Design program at Inlet.
"The opportunity was presented to me and I always loved kids, so the fact that I can love kids, inspire kids all while teaching the something that I am passionate about," she said.
Ms. Baker hopes to still be teaching at Inlet Grove in five years, and plans to tap into the creativity spark of today's generation.
One quote Ms. Baker goes is by Maya Angelou, "You can't use up creativity the more you use the more you have."
View Comments (2)
About the Contributor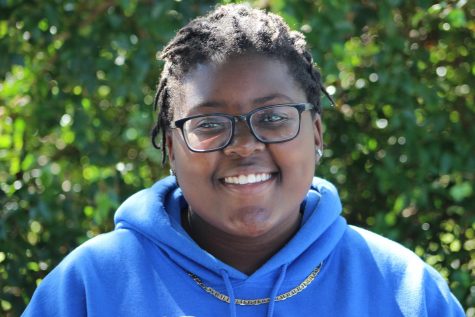 Brianna Luberisse, Editor-in-Chief
My name is Brianna but you can call me Bri or B. I am a Senior in the Journalism Academy. Aside from belching Beyonce songs, I like to help people, take...