Canes win home opener 18-2
Advertisement
Hang on for a minute...we're trying to find some more stories you might like.
The Hurricanes defeated Somerset Academy 18-2 in the home opener that featured masterful play-calling by Coach McKay and strong defense.
The Canes took at 6-0 lead at the 9-minute mark as Trenard Gains caught a well-thrown touchdown pass from quarterback Anthony Holmes.
Their hard work during the summer paid off big as the Canes' defense kicked off the game dominating Somerset. Elijah May stuffed the visitors for losses on their first two plays.
A first-quarter Hurricanes fumble recovery was followed by several more that the home team didn't cover by halftime, with left the score 6-0 at the half.
But barely a half-minute into the third quarter the Canes took the ball on another fumble recovery. After the visitors scored on a safety, Elijah May stripped the football for yet another Canes takeaway.
Penalties plagued the home team. But the third quarter featured a long pass reception by Alonso McClain, and a good run by Keron Ward as Inlet seemed to take control of the game.
With under two minutes left in the third quarter the Canes had still another fumble takeaway. Soon Manaphee Holmes scored on a touchdown run at the 10:33 mark. Elijah May snatched an interception with six minutes in the game, and the Canes scored on a touchdown pass with under a minute left.
The home crowd again was treated with performances by the Drumline, Dance Team and Cheerleaders.
Donnell Mangum shone as the play-by-play announcer as Mr. Goldstein's TV & Film Production crew documented the night along with members of the Publications Team.
The Hurricanes' next game is at home next Friday.
About the Writer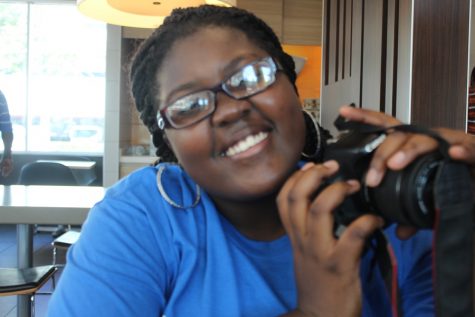 Brianna Luberisse, Editor-in-Chief
Greetings earthlings, my name is Brianna but you can call me Bri or B. I am a Junior in the Journalism Academy. Aside from belching Beyonce songs, I like to help people, take pictures and travel. I am currently writing a book on a child's perspective of life and hope in the future to edit and publish it. Give respect and get respect is my motto. I hope one day to travel the world and see different cultures. I am a Leader not a follower and I pave a way for others to grow. I love my life and hope to live it to the fullest.