It's a woman's world
For a long time in Hollywood, roles written for women were simple and two-dimensional. Characters like Lorelei Lee (Marilyn Monroe) from Gentlemen Prefer Blondes were only there as pretty prizes to be won by the strong, and charismatic male lead.
These damsels depended on a man to be able to make it in life, and particularly that way of thinking was what influenced women in the 1950s. Catching a rich man and producing charming children and cooking delicious dinners for weekly garden parties was what many young women dreamed of doing, having seen it depicted on the silver screen as the ideal American woman's duty.
But times are changing. Roles written for women are expanding outside the usual love interest/sex object boundaries. Just today, Marvel Studios released the trailer for their upcoming film Captain Marvel, set to be out in theaters in March 2019. Sure, may people may just wave it away as another big-hit-blockbuster, but this won't be any ordinary superhero movie.
Captain Marvel deals with Air-Force pilot Carol Danvers, who after a freak space accident, ends up with alien DNA that grants superpowers, and ends up the most powerful hero in the universe.
Oh, and did I mention she's a woman?
Through this, the character of Carol Danvers (Brie Larson) will be one of the many numerous female characters that carry their franchises on their shoulders, joining Rey (Daisy Ridley) from Disney's Star Wars, Daenerys Targaryen (Emilia Clarke) from HBO's Game of Thrones, and Eleven (Millie Bobby Brown) from Netflix's Stranger Things, just to name a few.
Although it's usually the actress in the spotlight –receiving the awards, the fame and glory– they wouldn't be anywhere without their directors.
In 2017, Patty Jenkins surprised audiences worldwide with her film Wonder Woman, which told the story of the iconic DC comics superheroine (Gal Gadot), Valerie Faris depicted Billie Jean King's (Emma Stone) revolutionizing victory during the legendary 1973 tennis match against Bobby Riggs (Steve Carell) in Battle of the Sexes, and when Greta Gerwig made history with her directorial debut and original coming-of-age comedy Lady Bird. 
And dangerously underrated, are the screenwriters. Writers like the imaginative Diablo Cody– who has won the Academy Award for Best Screenplay in 2008 for the controversial Juno– are the geniuses behind the compelling stories brought alive in the theaters.
These women, as directors, as storytellers, are just some of the many women working in Hollywood to lay a new foundation for the coming generations. Especially now during the recent #MeToo movement, started by activist Tarana Burke, where victims of sexual harassment have stepped up to have their voices be heard.
Even actresses like Salma Hayek and Lupita Nyong'o have spoken up about their own past abuses against film producer Harvey Weinstein, who has been allegedly accused by at least 200 women. Stories like these give messages that inspire hope, and go on to show that you don't have to be of a certain race or economic state to suffer sexual abuse– which is why it must be stopped.
It's despicable, really. Women have fought so hard to be treated on the same level as men, to be taken as seriously as their male counterparts, and yet the struggle continues.
In the long history of the 90 years of Academy Awards, only five women have been nominated for best director– and yet, only one has won. Kathryn Bigelow became the first woman to win Best Director for her film The Hurt Locker in 2010, where she even beat her husband James Cameron for his film Avatar.
Believe me, this fight is still far from over. But with more women taking on jobs that are seen as "you have to be a man to be successful", there is aspiration for the future of women's roles not only in Hollywood, but in society as well.
View Comments (1)
About the Contributor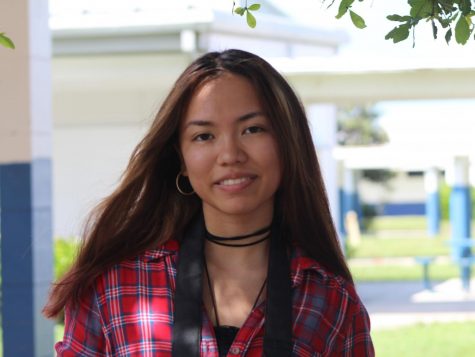 Genesis Vicente, Entertainment Editor
Hey, my name is Genesis and I'm a junior in the Journalism Academy. I'm a huge modern rock fan, and I aspire to become a film director, like Quentin Tarantino...