Junior and senior need-to-knows
On Thursday, September 20, 2018 juniors and seniors had their first meeting of the school year.
Juniors were informed of their upcoming junior dues that are going to be $50 from Sept. 20-Dec. 22, 2018; and $60 from Jan. 7- the end of the 2019 school year.
These dues are to be paid in Ms. Mathias's room 505 and include a discounted prom ticket, junior class events, yearbooks, and future senior dues.
As for seniors, their senior dues are $160 from Sept. 20- Dec. 21, 2018; A late fee of $10 will be applied if turned in on Jan. 1- Mar. 15, 2019; these dues are needed in order to participate in senior-related activities such as prom, Rapids, and graduation.
Senior pictures are to be done at Prestige Portraits in West Palm Beach; appointment cards have already been mailed home. If rescheduling is needed, contact Life Touch Studios at (800)-749-2796.
Herff Jones will be on campus grounds on Oct. 10, 2018 to discuss cap/gown/ring orders and packages during lunch.
Pertaining to trips, juniors and seniors are welcome to college tours.
The trips to UF, FSU, and FAMU will be overnight on Nov. 1-2, and cost $160 due by Oct. 24, 2018.
The Seaworld trip will be on Jan. 18, 2019 and costs $110; payment due by Jan. 4
The last college trip to FIU and FAU will take place on Feb. 15, 2019 and cost $50– this one is open to all classes.
For the senior's GradBash on Apr. 26, 2019, the payment of $160 is due Sept. 20-Mar. 1, 2019. Seniors planning on attending must have the following:
NO REFERRALS
2 COLLEGE ADMISSION LETTERS
LESS THAN 3 UNEXCUSED ABSENCES
If you have any questions, contact Ms. Matthias or Ms. Cartwright in rooms 505 and 508.
Leave a Comment
About the Contributor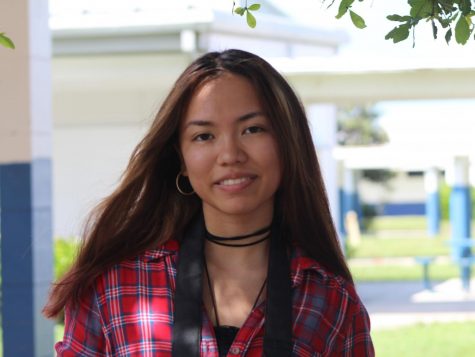 Genesis Vicente, Entertainment Editor
Hey, my name is Genesis and I'm a junior in the Journalism Academy. I'm a huge modern rock fan, and I aspire to become a film director, like Quentin Tarantino...