Editor's Pick: 'Scott Pilgrim vs. the World'
Based on the colorful comics by Bryan Lee O'Malley, Edgar Wright's Scott Pilgrim vs. the World envelopes its audience in a world of roaring guitar riffs, snarky one-liners, and fluorescent fight sequences all in the snowy streets of Toronto.
Scott Pilgrim (Michael Cera) is a 22 year-old bass guitarist who's still moping over his break up with recently-turned rock star Envy Adams (Brie Larson) and eventually ends up dating 17 year-old Knives Chau (Ellen Wong), a Chinese high-school girl who thinks he's the best thing to ever happen to her.
As his sister, Stacey (Anna Kendrick) would say: "Scandal!"
Everything seems to be going smoothly until one day, he meets the girl of his dreams—no, literally the girl of his dreams—the pink-haired, skeptic Ramona Flowers (Mary Elizabeth Winstead). A picture of pop-punk perfection, Ramona is an independent spirit who roller-blades her way into Scott's heart, although she's hesitant to accept it.
The troubles keeps coming though, as Scott finds out that Ramona's plagued by every new boyfriend's worst nightmare: a League of Evil Exes.
A video game boss-like group, the League consists of seven individuals, like skateboarder Lucas Lee (Chris Evans) and ninja Roxie Richter (Mae Whitman) who will stop at nothing in order to defeat Scott and take control of Ramona's love life.
The film's soundtrack, like Wright's Shaun of the Dead and Baby Driver, is incredible. Featuring rock artists like The Rolling Stones, Blood Red Shoes, Broken Social Scene, and Scott's fictional band Sex Bob-Omb, Edgar Wright allows the audience to not only see, but hear, the energy immersed in every scene.
Professional singer-songwriter Beck Hansen and composer Brian LeBarton worked together to write and produce the original songs for the film, while actors Michael Cera, Mark Webber, Allison Pill, and Johnny Simmons learned their instruments from scratch to give the aspect of a real indie band.
As for imagery, cinematography veteran Bill Pope, who's worked on The Matrix trilogy, lends his talents to create the dazzling, 80s video game-esque world of Scott Pilgrim. His use of colors from the background to the clothing on the characters compliments very well, and the game-like features add a touch of old-school Nintendo into the frame.
Overall, Scott Pilgrim vs. the World is an enjoyable adventure of love, music, and comically well-choreographed dance battles that'll make you glad you don't talk to your exes anymore.
TOTAL REVIEW: 3.5/5
Scott Pilgrim vs. the World is currently on Netflix.
Leave a Comment
About the Writer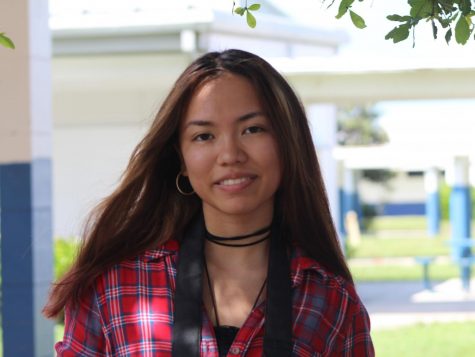 Genesis Vicente, Entertainment Editor
Hey, my name is Genesis and I'm a junior in the Journalism Academy. I'm a huge modern rock fan, and I aspire to become a film director, like Quentin Tarantino...