Editor's Pick: 'It'
It's that time of the year again. Full of eerie ghosts, terrifying witches, and an excessive amount of pumpkin-based products, Halloween arrives in all its spooky glory.
And what better way to start celebrating Halloween than with creepy and deadly incarnations of evil itself?
Based on Stephen Kings' 1986 horror novel of the same name, It is brought to the big screen by director Andy Muschietti and writer Chase Palmer, and deals with the child narrative half of the book, while plans for a sequel in 2019 are set to feature the adult narrative.
After his little brother Georgie (Jackson Robert Scott) goes missing, Bill Denbrough (Jaeden Lieberher) and his friends begin experiencing supernatural—and frankly frightening—events throughout their small sleepy town of Derry.
Banding together in these dire circumstances, Bill and his friends Richie Tozier (Finn Wolfhard), Eddie Kaspbrak (Jack Dylan Grazer), Stanley Uris (Wyatt Oleff), Mike Hanlon (Chosen Jacobs), Ben Hanscom (Jeremy Ray Taylor), and Beverly Marsh (Sophia Lillis) form the Loser's Club and vow to find and kill the monstrous It (Bill Skarsgård), who appears every 27 years to prey on the town children's worst fears— and then eventually make them his next meal.
One of the main changes was the time period, setting the events in the 80s, rather than in the 50s like the novel. While hardcore fans may be upset with this, Muschietti makes it work; even adding nostalgic references to boy band New Kids on the Block, and movies like Tim Burton's Batman. It may even remind some of Netflix's Stranger Things or Richard Donner's 80s classic, The Goonies.
The acting is superb, and feels very genuine. Mainly Bill Skarsgård's take on the role of Pennywise the Dancing Clown, which had previously been portrayed by Tim Curry in a 1990's miniseries.
Regarding his performance, the raw power of his facial expressions and voice is so unnerving, that it raises the hair on the back of your neck. Especially with the amounts of disturbing circus makeup… and the fact that he's a killer clown with a weird obsession of children and balloons.
The group of lovable oddballs is also wonderful, with standouts like Finn Wolfhard and his dark—but funny—sense of humor as foul-mouthed Richie Tozier, and Sophia Lillis as the fiery redhead, cigarette-smoking, and and take-no-crap Beverly Marsh.
Although most horror films churned out these days are just filled with plot holes and cheap jump-scares, It is not just a "good horror movie", but may also double as a mature coming-of-age story. Think of another Stephen King adaptation, 1986's Stand by Me. 
Just featuring a demonic clown.
Coulrophobics, you've been warned.
TOTAL REVIEW: 4/5
It: Chapter Two gets released September 6, 2019.
View Comments (2)
About the Contributor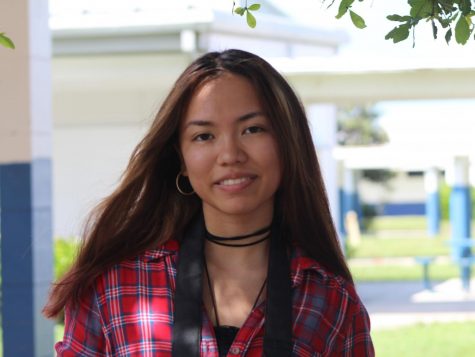 Genesis Vicente, Entertainment Editor
Hey, my name is Genesis and I'm a junior in the Journalism Academy. I'm a huge modern rock fan, and I aspire to become a film director, like Quentin Tarantino...