Percussionist Parade Perspectives
The Marching Hurricanes drum-line and the Lady Canes dance team both perform at local parades like the MLK parade in Riviera Beach, and the Holiday parades in Lake Worth, Delray, Boca Raton, and Boynton.
"A parade is exciting because you have so many people shouting and rooting for you,"according to cymbal player Klorskyne Laguerre.
A parade usually starts at one end of the town, and finishes halfway through the city. Performers, floats, and cars of different groups are usually a couple spaces apart. Participants range from the patriotic, to schools, to the politically aware. Before a parade starts, those participants gather in two rows, typically on four-laned streets, with one side moving first, and the second side gathering behind the end of the parade. During a parade, exhibitionists move in an orderly fashion, generally keeping a steady pace until the end of the parade.
"Being apart of a parade is so uplifting and energizing because you get to walk through the street with people cheering for you while your having a good time with the band family," said Zoleecia Newell.
In most parades, judges wait till the end to grade your performance and compare a band to others.
"From the outside looking in, it's always like they're drifting away. It's like a river with a current,"said 11th grader Brianna Luberisse.
The fun of a parade for participants starts at the competitive display. Bands of all calibers and grades challenge each other before and after the parade, competing for the top spot. "We strive to be the best, challenge the rest. N-Phi-T (fraternity)! NEW PHI THANG, C5 GANG," said the Marching Hurricanes band director Courtney Rivers.
Different participants of all forms come to perform skits, or play music, broadcast different cultures, or show their religious beliefs.
Other schools besides Inlet Grove send their bands to play in parades. High Schools like Palm Beach Lakes, Royal Palm, Boynton Beach, and Suncoast participate and even the middle schools Roosevelt Middle, John F. Kennedy.
Parents are "supportive of what they do for the school" but are wishing that the school did more.
Drum-line Mom Julia Blanchard proclaims, "I think city parades should be for community service hours. I think it supports the school and the community, and most people don't do enough to support a community on that level. That is definitely a service to the community and a service to the school. It encourages students to participate in school activities, and the drum-line participating in parades shows the different cultures and diversity in the community."
"Companies and different parts of the community are highlighted. Sports teams, dance teams, and different ideologies all get to be showcased. If the school can't see that, then what's the purpose of exploiting a drum-line for things that can't be understood ? Community service hours are a graduation requirement, so why withhold such a thing ? Hard work deserves credit and a reward, and they don't get enough of either of those things," said Julia Blanchard.
From what it seems, even those who don't watch the parades enjoy the fun. "They sound good. I heard y'all in the parade. Weren't you guys in the battle of the bands ? I didn't go to that but its cool. Y'all look like you had more people. The band looks big. That's a good thing. Y'all were all on task, You were clicking. All on one rhythm," admitted Junior Artist Newby.
Although some participants find the fun in parades, others have different opinions. Snare player and sophomore Jouberson Joseph says, "There's something beyond hell. Inlet Grove Drum-line." Tenor player and Junior Nia Filsaime continues, "It's just like getting sent to hell…. and Tsar  is the bus driver."
Other members of the drum-line preferred not to answer, afraid that their director wouldn't like their "sour attitudes."
In my experience as a member of the Marching Hurricanes, parades are pyrrhic and dichotomous. The portmanteau marching and playing of instruments causes fatigue easily, whereas the 'bubbly' atmosphere is almost uplifting. The poignant reminder of a parade's finish line brings happiness to my heart, but it also saddens me. The cheerful faces that pass you by start to fade away, almost like they were never there. The most pragmatic approach to a parade : start loud, and finish strong.
View Comments (1)
About the Writer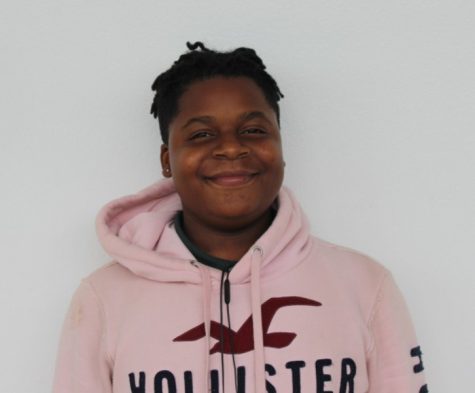 Tsar Blanchard, Staff Writer
I am Tsar Thomian Tsavhon Valencio Valor Franklin Buteasse Blanchard (otherwise known as T), a junior currently in the Multimedia Academy Wheel in Journalism....