UF here she comes
Hang on for a minute...we're trying to find some more stories you might like.
Like other seniors, Shevauna Dumay of the Multimedia Academy will earn her high school diploma when she graduates on May 16.
But Dumay already has graduated from Palm Beach State Community College, earning her associate degree in Political Science on May 8.
Moreover, she is  already attending the University of Florida, where her classes began May 13.
Dumay leaves Inlet Grove having earned a Seal of Biliteracy, a Merit Designation, and a Scholar Designation on her high school diploma.
She was president for the National Honor Society and is in the top 10% of her senior class.
Her now former teachers offered plenty of congratulations.
"You have done an amazing job!" said Senior Class Co-Sponsor Ms. Cartwright. "UF, here you come!"
"Congratulations to Sheva!" said NHS adviser Ms. Reyes, who applauded Dumay for being the society president this year and becoming a "Magna Cum Laude" AA graduate at PBSC.
While she was a student at PBSC, Dumay was a part of the Student Government Association Legislative Branch (Senator), a member of the Rho Kappa Social Studies Honor Society, and the Phi Theta Kappa Honor Society.
She has also received the prestigious Alfred P. Nelson Endowed Scholarship for Excellence in Education.
"Thanks to you all," Shevauna said." I could not have done on my own."
About the Writer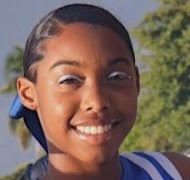 Kristha Zapata-Palacios, Co-Editor
Hey, my name is Kristha Zapata-Palacios. I am a Junior in the Marine Technologies Academy. I play Flag Football (#6) and I'm a 2 year varsity cheerleader. I came from the original Maritime Academy that recently merged with Inlet Grove. I like to write different things in journalism but my favorite type of journalism is opinion writing. I love to travel and hang out with my friends and family. I also love learning new things about my culture. I'm Guatemalan and Honduran. Learning more about my culture makes me feel more connected to my true self. After high school I want to attend a very good college and graduate with a major in Marine Biology and Enterpurnuership and minor in communications. My main goal is to open a chain of Maritime Academies all around Florida and eventually spread around the United States.