Racking 'em up
Editor-in-Chief Brianna Luberisse captures yet another honor, this time the 2019 Character Counts! award.
Brianna Luberisse was recognized at the Character Counts! End of the Year Celebration on May 13 at John I. Leonard High School.
It was yet another award this year for the Journalism junior and editor-in-chief of the Inlet Grove student publications.
"I feel proud of what I've done since freshman year and finally feel recognized and hopefully I get more my senior year," Luberisse said.
It was just one of multiple recognitions this year for Luberisse, who has been earning them since she was became editor of GroveWatch.com as a freshman. That year she also served as an intern for the South Florida Times, and so impressed the newspaper's staff that she was featured in the cover story for the Black History Month Special Section.
This year, Luberisse was honored as Inlet Grove Student of the Month for January. Also in January she took first and second place in the Martin Luther King Coordinating Committee Photography Competition — for the second straight year.
"Brianna is more than deserving of this award," said Coach Donovan who nominated her. "She is a genuinely kind, respectful and hard-working young lady that has a smile so big and bright you can't help but be drawn to her. She takes on more work than other students her age and she does it without complaining. She exemplifies what good character is and if you have the honor of being her friend or teacher, you should be so lucky!"
Luberisse was accompanied to the Character Counts! program by her mother, brother, and Journalism instructor Mr. Hanif.
"Brianna is the key reason the Hurricanes' student publications did so well once again this year at the Palm Post Excellence in High School Journalism Awards," said Mr. Hanif. "It is no coincidence that under her leadership, GroveWatch has placed third in the awards for an unprecedented three consecutive years. With other editors relying on her experience, the students' Forecast magazine also was recognized as Most Improved print publication."
She is the go-to editor he directs her peers to consult, Mr. Hanif said, and she always is willing to help.
"Brianna has been a leader not only in word, but also in producing articles, photos, poetry and even designing ads for GroveWatch and Forecast," he said. "There's hardly a school event she hasn't covered, whether student clubs, sports events, pep rallies, medical symposiums, car shows, My Teacher My Hero, you name it. Not to mention, there she was taking charge in producing the Yearbook this year.
"Her service for local community organizations also is exemplary," Mr. Hanif said. "Frankly, Brianna deserves more recognition. But undoubtedly, more and more will come. For now, having watched her excel since her early freshman days, I can't wait to see what new ground she breaks in her senior year."
Approximately 70 Students of Character were recognized during the ceremony, during which the Hon. Joel Flores, mayor of Greenacres, spoke. The John I. Leonard Varsity Cheerleaders and The Bee Hot Steppers from Belvedere Elementary School also performed.
"It was a good event," Luberisse said. "I was welcomed there with open arms. When I was introduced to the stage I was honored to represent the school I come from."
View Comments (2)
About the Contributor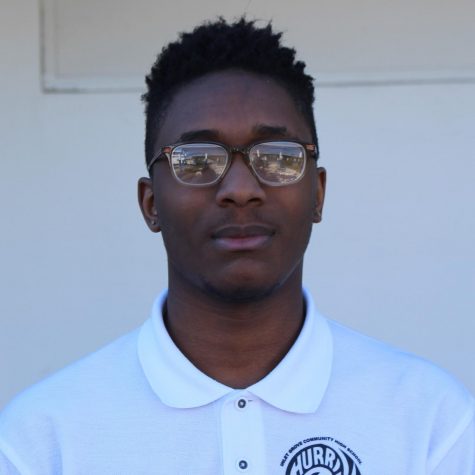 Jonathan Hunter, Sport Editor
I'm a sophomore in TV Production Academy. I like to do new things. After high school I would like to join the U. S. Navy, and get my degree in Multimedia...