Let me drive the boat
Tyler Chatom, an entrepreneur in the marine industry who was born and raised in Riviera Beach FL, came to Inlet Grove with a 40 ft. boat. During 4th hour, he showed the vessel to students from Mr. Rice's marine technology class and Ms. Baker's digital design class.
Mr. Rice also showed students one of the engines on the rear starboard (right) side of the boat. The marine technology students observed the engine and pointed out the parts they learned in class.
After Mr. Tyler finished showing students the boat, they went into Mr. Rice's class and he shared a little bit about himself and how he became an entrepreneur.
He began his first company when he was 8 years old fixing toy cars for his friends. "Never made any money of it but I had a service that I provided," said Mr. Tyler. "That was the first thing I ever did. I used to get toy cars from friends at school take them home, fix them and brought them back the next day."
"That eventually turned into doing car audio systems when I was in high school," said Chatom
Mr. Tyler was a part of the international bachelorette program at JFK Middle school and went to Suncoast High School.
"While at Suncoast I got into the engineering technologies program," said Mr. Chatom. "Which is kind of similar in so many ways to your marine technology program which basically this program immersed me into doing graphic design, such as adobe and photos shop."
He started doing film work with Adobe Premiere, drafting/designing and manufacturing. He said that "…ultimately that base that I learned in high school really helped prepare me in the entrepreneur world…"
He moved to Tallahassee to attend Florida A&M University where he earned his degree in Business. While being at FAMU he worked in the music industry doing background work for different upcoming artist for about 5 years."Had a couple of tour dates with Wiz Kahlifa and Mac Miller on their first tour runs they did back in the day. Did some stuff with Wayne and did some gospel stuff," said Mr. Tyler.
Before he left, he gave students advice on entrepreneurship and the opportunities in the marine industry. He said "If you did take a look into this industry, it could be more than meets the eye."
Leave a Comment
About the Contributor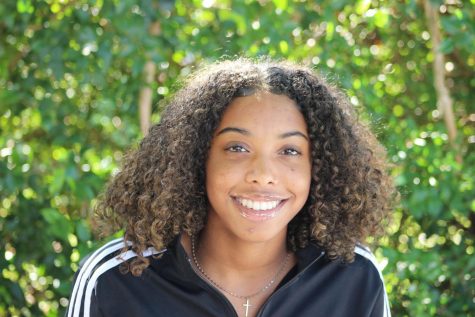 Kristha Zapata-Palacios, Co-Editor
Hey, my name is Kristha Zapata-Palacios. I am a Senior in the Marine Technologies Academy. I play Flag Football (#6) and I'm a 2 year varsity cheerleader....