Until next season
Inlet Grove's football season has ended. They finished with a record of 4-6 and played 1 round of district playoffs. The team had multiple changes such as: new coaches, players form different counties and going out of state.
"It was a success for the most part even though we didn't go far in playoffs we got better as a team and hopefully next year we get further," said Corner Back, Jakobe Hines, Junior in the Pre-Architecture Academy.
The team started with their pre-season game against St. Brendan. They did not win that game but won their second game against Miami Citi Christian.
During the game against Miami Citi Christian, Rob Bently, a Senior player from Riviera Beach Preparatory Academy was sent to the hospital because of an injury on the field.
"My favorite game was the first game against Miami Citi Christian, because it showed that we can be in a dog fight and  pull through adversity. We were still able to pull off the win" said Ronaldson Edwin Mistillien, Senior in the Medical Academy and plays Defensive Tackle.
Throughout the season they went out of state 2 times: Anderson, South Carolina against T.L. Hanna and Mobile, Alabama against McGill-Toolen Catholic.
During their trip at Anderson, SC, they toured Clemson University's football stadium.
"It was a beautiful place with an amazing stadium with a better fan base. Everything over the Clemson Tigers," said Trey Camburn number 55, Senior in the Culinary Academy.
Camburn transferred to Inlet Grove over the summer from Park Vista High School and plays on both Defense and Offense as Tight end, Full back, Right tackle and Linebacker.
After their tour of the Tigers stadium, they rested in the locker room before their game against T.L. Hanna High School at 7 that was streamed live on ESPNU.
"It was a good game. It showed us what it's like to face Division 1 talent and what it's like to play on a big stage, "said Camburn. "I could've played better but for the most part I played decent. I always get those butterflies before a game regardless of who I play but if you don't get those nerves then you're not playing your best."
They had 2 games after playing T.L. Hanna: an away game at Boca Christian and a home game against Gateway Charter.
The Inlet Grove cheerleaders and their coach, Ms. Baker Digital Design instructor, went to Boca Charter to cheer on the football team. "My favorite away game was Boca Charter because we were very good with our cheers and there was competition with the other cheerleaders," said Whitney Civil, 2-year cheerleader and Sophomore in the Medical Academy. The boys won that game 47 to 7.
The team won the next game against Gateway Charter, 12-6, and they had a new supporter on the track. Five year-old Gabriella Cartwright, daughter of AP Language instructor Ms. Cartwright, started to cheer with the cheerleaders on the track. She cheered till halftime and continued to cheer with the cheer team at the home games for the rest of football season.
The boys left to Mobile, Alabama Fri. Sept. 27, to play against McGill-Toolen Catholic.
"It was a nice experience. It was a good time to have better chemistry, sitting on a bus for 11 hours … I wasn't really nervous. It was just a different atmosphere," said number 27 Maurice Smith, Junior in the Culinary Academy. Smith plays on the D-Line as well as Defensive Tackle.
They lost 12 to 47, however, they kept their heads up and looked at the positive side of the game. "I feel as if it helped us grow as a team, facing a team we strive to be like, discipline wise. Other than that, I felt it was a good experience for all of us." said Smith.
"Even though we didn't win those games, it showed us that we are not that far off. We are keeping up with some of the best teams in the nation. Those games helped us understand that were one of the best too," said Mistilien.
After the boys came back from Alabama, they had three games: two home and one away before they made it to play-offs.
The school organized a pep-rally to recognize all the football players and get everyone in the school spirit for the homecoming game later on that day against Suncoast High.
The Football team did not win their homecoming game (14 – 28) but they won the next game with a close score of 19-18 against Jupiter Christian. That game qualified them into district play-offs.
"Cheering for them was fun and intense especially when we were by the end zone. For someone who has ADHD it was very intense," said Civil.
They played one more game against Pembroke Pines High at Pembroke Pines. The cheerleaders attended that game and were surprised by the other cheerleaders. The Pembroke Pines cheerleaders took the Inlet Grove cheerleaders to the side of the track and played cheer games.
The Pembroke High game ended in a loss and ended the regular football season. After that game, they went to district play-offs at Bradenton Christian. They lost the first round of the playoffs and didn't continue on to the second round. That closed the end of the season.
First year football and dance manager, Brianna Luberisse, Senior in the Journalism academy, "I think they did pretty good, they had the energy just need to work on playing as a team. They had a good season overall."
During the season, the players collect their highlights. Each player will watch the film of the entire game and separate the parts where they are featured into another video.
"The point of making your highlights is to get offers and for colleges to see how you play," explained Jonathan Hunter, Junior in the TV and Film Production Academy.
Hudl is a site that provides video review and performance analysis tools for sports teams and athletes at every level. The players use this site to create their highlights and gain views.
"…We are a team don't get me wrong," said Maurice Smith. "But at the end of the day what you do will send you to college…"
The district playoff game was the last game the team played and concluded the 2019 Inlet Grove High School football season.
Spring Football training starts again around March but till then the seniors say goodbye to high school.
"Bye football, till I see you again." Trey Camburn.
Leave a Comment
About the Contributor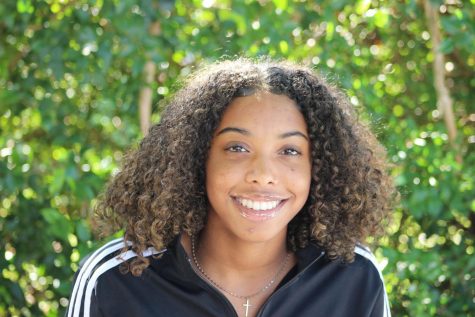 Kristha Zapata-Palacios, Co-Editor
Hey, my name is Kristha Zapata-Palacios. I am a Senior in the Marine Technologies Academy. I play Flag Football (#6) and I'm a 2 year varsity cheerleader....