Newspaper education
As usual the High School Newspaper Workshop hosted by the Palm Beach Post included lunch. But this year the desert had a catch: Liz Balmaseda, the Post's Food and Dining editor, led a session titled "Always the Critic," during which students not only got to enjoy but also critique some tasty treats. Students from each of the approximately 11 attending schools wrote a group review of their chosen desert and presented it.
The annual event usually takes place at the Post but this year was held at the nearby Airport Hilton due to the newspaper's building being bought and undergoing renovation.
The workshop started with the "It Starts Here" session led by Tom Elia, the Post's Breaking News editor and Andrew Davis, Senior Bridge editor at the Palm Beach Daily News.  Next, students from each school were given the assignment of designing a newspaper front page using a poster board, markers, pencils, three photos and up to five news stories.
There also were five Small Group Breakout Sessions that lasted 90 minutes: "I'm the Editor. Now What?" led by Carol Rose, an editor at the Palm Beach Daily News, and Joel Engelhardt, Investigative Team editor; "Can we talk?" led by Wilkine Brutus, a multimedia journalist; "Bringing it Home" with Carolyn Diapolo, senior editor, and Holly Baltz, senior editor of Investigations; "In the Lede" led by Sonja Isger, Education reporter, and reporter Joe Capozzi; and "Sports Season" with Nick Pugliese, Sports editor.
After the breakout sessions lunch was served in the ballroom with at least one Palm Beach Post staffer joining each school's table. Holly Baltz sat with the Hurricanes, sharing some of her experiences as a journalist and investigative journalist.
The last session of the day was "Always the Critic" with two-time Pulitzer Prize-winning Balmaseda, who talked about Food writing and Food criticism. "A food critic is a story teller," said Balmaseda, who ended with the desert review exercise and helpful feedback.
"I liked all the sessions I attended, but my favorite was the culinary review exercise," said Alena Cornet, a Senior in the Journalism program. "I felt like I was an actual food reviewer because I got to sit down and actually taste the food and explain it without using basic words." ("Delicious" was one among the words to avoid in food reviews, Balmaseda had advised.)
Also attending were Hurricane student publications Editor-in-Chief Brianna Luberisse, and Co-Editors Hannah Snow and Brianna Dwyer. The Canes are looking forward to returning in May to the High School Journalism Awards luncheon.
Leave a Comment
About the Contributor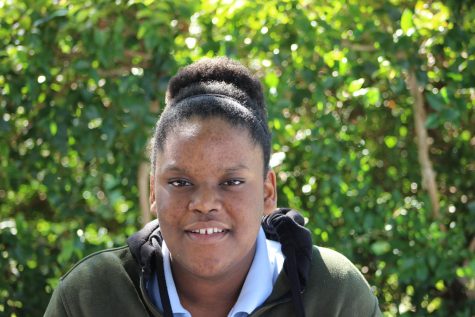 Brianna Dwyer, Editor-in-Chief
Hello, my name is Brianna and I am Senior in the Journalism academy.  I am  someone who is easy to approach. I absolutely love to read. I also love to...