National Honor Society welcomes leaders
The melodic voice of Medical Academy senior Rose Telisme, singing the national anthem, kicked off the National Honor Society (NHS) induction ceremony in the Media Center Oct. 7. The program acknowledged Inlet Grove students who have worked hard and achieved their position in the program.
The 16 new NHS members for 2015 are: Alex Cote, Deonte Deacon, Natalie Hernandez, Numgine Jean-Bernard, Shania Jordine, Emily Hall, Raine Kasik, Jamesha Kendall, Shoumeda Flerigene, Kemeleine Michel, Annamarie Mitrovich, Nicholas Mitstifer, Jorge Murillo, Maria Murillo and Shanon Hernandez.
"I'm very excited, I am looking forward for what we do," said new inductee Cote.
To be accepted, students demonstrated excellent academic skill in such areas as scholarship, leadership and character. Speeches about those qualities were given by current NHS members Megan Tackore, Osamara Salazar, Dieumitha Ferdelus and Brenda Joseph.
Principal Emma Banks congratulated the new NHS inductees and encouraged them to "strive for success." Assistant Principal Jack Myszkowski and Careers Coordinator Scott McDermott also congratulated the students.
"I'm extremely happy for my students," Dr. Banks said. "Now we have the support to help others who need the extra help."
Mathematics instructor and NHS adviser Lourdes Reyes led the presentation of certificates and National Honor Society Pledges. As each student was given a certificate, candles were lit to highlight his or her acceptance into the program.
"It was very interesting the way the ceremony went," said Hall, who added that she is "excited for next year."
Parents who came to watch the ceremony left with smiles on their faces. "It's a good program for the kids here at Inlet Grove," one student's mother said.
Ms. Reyes thanked everyone who attended and offered a special thank you to Shirley Pierre for helping the ceremony go smoothly.
"I feel good about my students," Ms. Reyes said, adding, "They can help out with tutoring and other academic tasks.
The other current NHS members are Cheyenne Bodie, Magdala Francois, Angie Garcia, Roodgina Jean, Everald McFarlane, Nailah Mckoy, Wilgens Mistilien, Kaisha Nembhard, Jonas Oge, Diana Perez, Shirley Pierre, Shaylla Renejuste Rodinson and Jennifer Saint-Fort.
"So proud of the members," Mr. McDermott said, adding, "They are the leaders of the school and they continue to impress me."
View Comments (1)
About the Contributor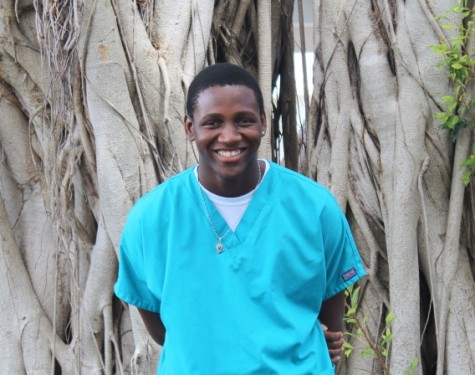 Jamie Johnson, Staff Writer
My name is Jamie Johnson also known as King. I'm very nice, funny and very energetic. I'm also Jamaican. I have a passion for all types of music. I'm enrolled...