Craft and Car Shows rocket toward Inlet
There are exciting events going on at Inlet Grove on Saturday, Feb. 20. Teachers, tests and books will be replaced by food, music and fun. There are two main events:
The Craft Fair,  9 a.m. – 3 p.m. in the front parking lot
The Car Show, 10 a.m. -2:30 p.m. in the back parking lot
Let's start with what is going on in the front of the school, the creative Craft Fair. There will be activities for all age groups, including a fun zone for the younger visitors. Go ahead, get your face painted. Don't worry, we didn't forget about the food, there will be scrumptious delights everyone will love.
There is also the Car Show in the back parking lot. We will have a variety of beautiful cars to eyeball. Dash plaques will be given to the first 50 cars to arrive. There will be a whopping 17 categories and more than 20 trophies.
There is no admission fee for the Craft Fair. There is only a $10 fee if you register early for the Car Show, which increases to $15 at the door. So register your cars now everyone. The more cars at the show, the more fun we will have! All shapes, colors and sizes of cars are welcome.
There is even going to be a raffle, prizes and a giveaway. This is an event that cannot be missed. It will be the "hottest" spot to be at on Feb. 20.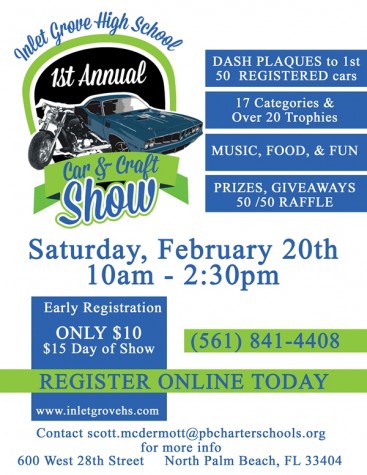 Leave a Comment