Children of the Swamp: Canes Robotics Team takes Control Award
Inlet Grove's Robotics Team, Children of the Swamp, and their Robot 450 won the Control Award at Florida Atlantic University Tech Runway Regional Championship on Jan 16.
Robot 450 was driven by Dalton Nutter, a sophomore in the Pre-Engineering Academy. The robot was built to go through a series of obstacles and to complete simple tasks.
Mentors Chet Zientek, Mark Gross and Roy Bays said the team worked hard to meet weekly expectations, under the sponsorship of Mathematics teacher Emmanuel Marcelin.
"We deserved the Control Award because our team is dedicated," said Jacob Heine, a sophomore in the Pre-Engineering Academy. "We get down to business and have fun with it!"
"We proposed a unique element to our robot which was better equipped than some competitors out in the field," said Grayson Griner, also a Pre-Engineering sophomore.
"We had the most unique control system," said Dalton Nutter, another sophomore in Pre-Engineering. "I couldn't be more proud!"
Robotics Team members said they hope more Canes will join the club next season.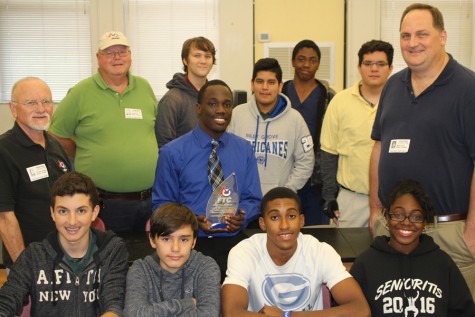 Photo by Micaja Jeune
IN CONTROL: Children of the Swamp Robotics Team sponsor Emmanuel Marcelin, center, holds the winning trophy, surrounded by (front row, from left) Grayson Griner, Dalton Nutter, Wesley Jean-Pierre, Danyelle Kennedy; (second row) mentors Chet Zientek and Roy Bays, Jacob Heine, Ricardo Martinez, David Kennedy and Andrew Sanderal and mentor Mark Gross.
View Comments (5)
About the Contributor
Micaja Jeune, Editor

I'm Micaja, a sophmore in the Journalism Academy and I have a goal of becoming the best I can be. I am both Bahamian and Haitian which I'm very proud...