How to remember a year for life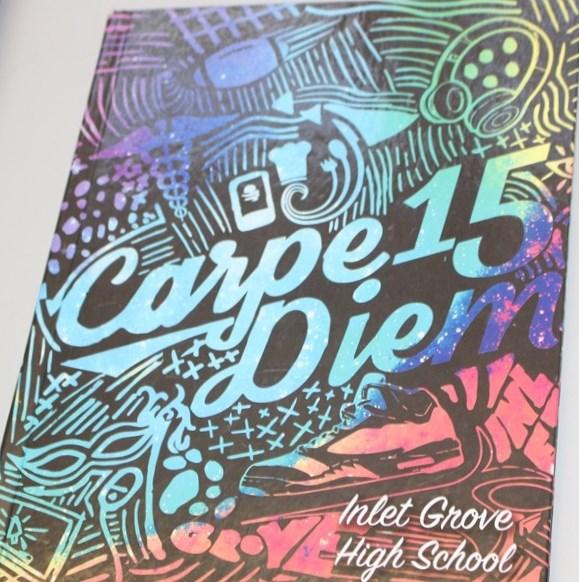 Would you look at the time? We're more than halfway toward completing the school year. For some of us, familiar faces will be seen again. Other faces you won't see again at all. Of course, we'll still be able to find each other on social media such as Facebook, Instagram and Snapchat. But the better source to help remember the faces you've grown to see every day is a yearbook. Hurricanes can do so by buying a 2016 yearbook.
The Inlet Grove yearbook is being produced by the students of Anthony Bell, Inlet Grove's Graphic Arts teacher, and will be amazing. March 17 is the last day to pre-order one for $35. Seniors who paid their senior dues can buy one for $10. After that a limited number will be available for $40.
The yearbook features a collage of the first day, senior quotes, senior baby pictures, a slang list and even a selfie page.
"I plan on buying a yearbook," said Ronald Williams, a senior in the Pre-Law Academy, who added  that he wanted to have one for the memories.
That seems to be the case for other students as well, such as Aaliyah Rosado-Yates, a freshman in the TV Production Academy. "Yearbooks have so many memories," said Rosado-Yates. She said she had never purchased a yearbook before but plans on buying this year's.
"I heard about the yearbook," said Cristina Escobar-Cruz, a sophomore in the Medical Academy. "I haven't purchased one yet. I want to purchase one to see my friends."
Some people have no interest in purchasing a yearbook. The reasons may include waiting until their senior year, or just to save money.
"I am not planning to buy one," said Deonte Deacon, a junior in the Pre-Law Academy. "I am saving money for next year."
"I'm not interested," said Raya Holmes, a freshman in Pre-Law, who added that she'd possibly reconsider if she gets more money. 
So what do you say? Do you wish to savor memories of the school year for life? What are you waiting for? Run to Mr. Bell in Room 104 and buy yourself a yearbook to cherish forever.
Leave a Comment