The new and improved Grove Spa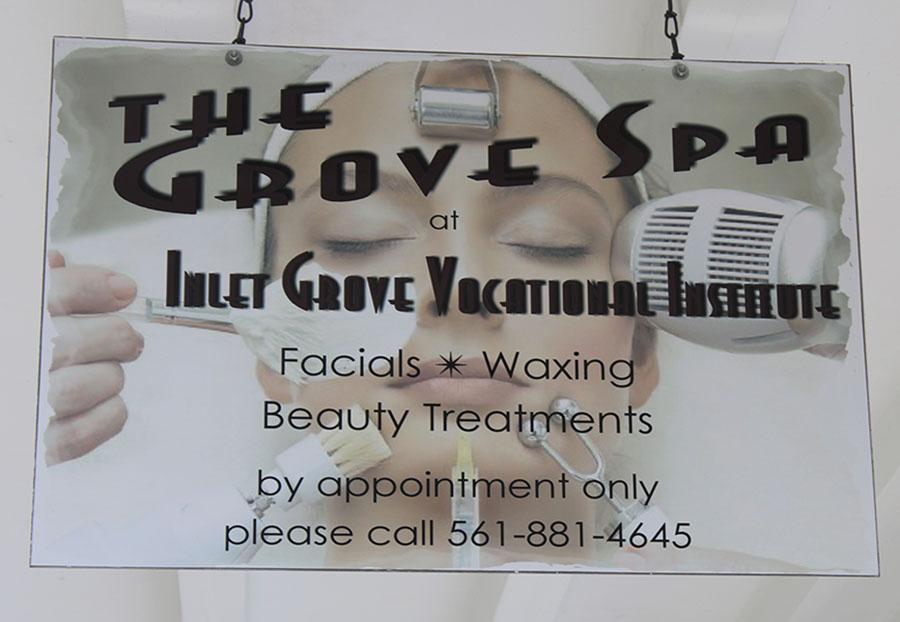 Did you know that there is more to Inlet Grove? The new and improved Grove Spa of the Inlet Grove Vocational Institute is opening on Valentine's Day, Feb. 14. If you're all about beauty and would love to get yourself pampered, or even have a special someone you'd like to treat, you should take a mini-vacation at the Inlet Grove Spa.
Enhancing beauty at the spa is Carla Taylor, an esthetician specialist and Adult Education teacher here at night. She is taking the next step at the remodeled spa, which is open and ready for the public.
"I did try my very best to enhance it, because I love beauty and I love to make people feel great, and I love to teach," said Taylor, who currently is taking business and marketing courses at Florida Career College in West Palm Beach.
The spa has adult students using it as an opportunity to build their esthetician skills, which can also be used to seek a profession as a director in the medical or hospitality field. Working in the spa also enables students to gain hours required for their graduation. Also, profit earned at The Grove Spa goes to the Adult Education School to buy supplies.
The spa treatments range from exhilarating facials and satisfying waxes available for both men and women, costing from $5 to $20, that are all available no matter your age. Clients are in the hands of students training to become licensed. And in case you're wondering, there will be future beauty classes and training available.
The Grove Spa is open every Saturday, 8 a.m.to 2 p.m. Gift certificates are available for purchase Monday-Friday from 10 a.m.-4 p.m in the Adult Education Office. Check it out and experience it for yourself, first by making an appointment: Call 561-881-4645, drop by the Adult Education Office or go to inletgroveadult.org.
Leave a Comment