Feeding the Board
During first and second period, Chef Newman and her Culinary students were prepping for the monthly Career Advisory Board Meeting.
The students were from right to left: Maurice Smith (Waiter), Raeanna Arroyo (Head Waiter), Theodore Hill (Beverage Manager), Dakota Sands (Manager), Jahnel Jones (Chef), Stracey Leo (Sous Chef), and Karutha Ulysses (Garde Manger).
"What people do not know is that this kind of catering takes all day, start to finish," said Chef Newman.
The entree was Chicken Milanese, garnished with fresh shaved parmesan cheese, puff pastry apple roses with french vanilla ice cream to finish the meal.
They finished cooking during lunch to serve at 12:15. They didn't finish at that time so they started to serve at 12:30 until 1:30, started to clean up at 2:00, then washed the dishes, and cleaned the floors by 3:00.
"Most people see the finished product and think it was not a big deal, but those of us who do it know differently," said Chef. While eating they had either an ice tea, lemonade or bottled water to drink.
"No lie, I was tired after it was all over but I like doing these events because I'm not in class all day," said Theodore Hill Culinary Academy student.
"It was successful, they pulled it off and did good as a team effort," said Chef.
Leave a Comment
About the Contributor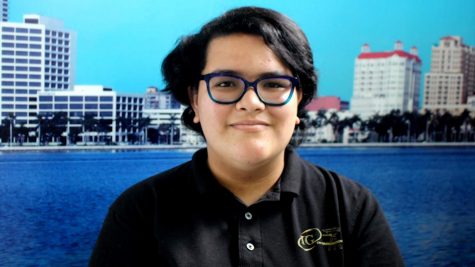 Alyssa Tenorio, Multimedia Editor
Choshi wa do! (wassup!) My name's Alyssa Mariana and I'm a senior in the TV and Film Production Academy. Online I'm known as Prince or Jace with a few...