Strike of the progress reports
Inlet Grove Community High School football players must be responsible about academic performance in addition to regularly attending practice and participating in games.
Since Terry Bradden Jr. became the coach, the Hurricanes have been turning in weekly academic progress reports. The report forms, completed on Thursdays, help better assess the student athletes' academic progress.
Coach Bradden said he required the reports "because without grades you are nothing. So you have to be a student first, then an athlete." Football, he added, "is not life. Football prepares you for life."
"I think it's a good thing," said Wilhemson Jean-Pierre, a junior in the Multimedia Academy and cornerback on the team, "to see how the players are doing academically to get their GPA up and to go to a good college."
The progress reports consist of grading charts, behavioral ratings and a comment section, allowing teachers to accurately rate each player. Another attachment, a roster, is given to teachers to aid them on which student is an actual football athlete.
When the reports requirement started, Social Studies teacher Lindsey Keller stepped in to help monitor and collect them each week. "I would like to thank Mrs. Keller because she has been very helpful in the process," Coach Bradden said.
Mrs. Keller sent out an email to notify teachers of the new requirement for the student athletes. She also attached a copy of the report form in case teachers need to print one.
"The football players should know that education should come first, and then football," said Mrs. Keller. She sent a follow-up email affirming that, "Yes, I do in fact read every last one of them and all of your comments. All this information is compiled and reviewed by myself and Coach Bradden.
"It is not a waste of time – please make sure you express any concerns with us on that form so we can work with the students."
Donnell Mangum, a sophomore in the TV Production Academy, called the weekly reports "a reasonable idea," adding, "The only thing I'm worried about is if you don't turn it in, you don't play that week."
"They're not so bad," added Terence Graham, a junior also in TV Production. "Only one signature per week, but it's easy to forget when you wait until the last minute."
"I love it," said Anthony Bell,  Digital Design instructor. "It really holds the student athletes accountable for their learning and success in classrooms."
About the Contributor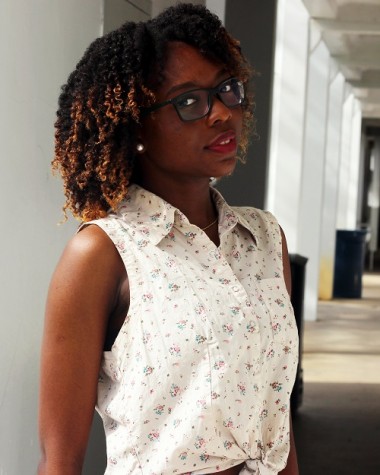 Nailah Mckoy, Social Media Editor
Hey there! If you are searching for an invigorating Jamaican girl with a stunning curly fro, impressive design skills and great articles, looks like you...