Cheer baby
Ms. Cartwright, AP Language teacher took her daughter, Gabriella Cartwright, to Inlet Grove's football home game against Gateway Charter on September 20.
She was mimicking the cheers that the cheerleaders performed.
"I noticed that she was cheering with us behind the gate and thought it was so cute," said Kristha Zapata-Palacios, captain of the cheer team. "She was trying to copy our cheers."
"When I noticed that she was trying to cheer with us I asked my coach and Gabriella's mom if she could come on the track and cheer with us and they said yes," said Kristha.
"I gave her my pom poms and my towel; she looked very happy and smiled the whole time," said Kristha.
After that game Gabriella came back for the next two home games.
She attended Inlet Grove's Homecoming game against Suncoast on October 4 and Senior Night against Jupiter Christian on October 10.
"During the Homecoming game Gabriella came with the cutest surprise," said Kristha. "She came with a white bow that matched mine and the poms poms I gave her."
"After every cheer we do, she goes right back into set with her hands behind her back and feet together," said Kristha. "She plays no type of games. Every time we finish a cheer she looks so serious and it just so cute I can't help but smile."
"My niece is your biggest fan," said Mr. Goldstein the TV and Film Production instructor.
"She is absolutely adorable," said Kristha's Mom, Hilda Zapata-Palacios.
On Senior Night, Gabby came back in a full cheer uniform. Her outfit was the school colors which is blue, silver and white. Her cheer tops also had "CANES" written on it.
"She handed me my flowers when I was walking down the field and I was surprised because I wasn't expecting her to do it but I'm glad she did," said Kristha "Football season is now over but I really do hope my cheer baby comes back for basketball season."
Leave a Comment
About the Contributor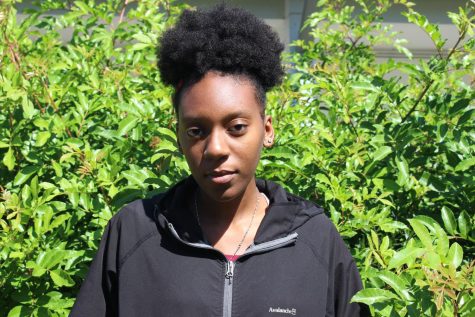 Tahalia Rennie, Features Editor
Hey, my name is Tahalia (tuh-HAY-lia), I'm a Junior in the Culinary Academy and a second year Journalism student. I have a passion for food and I enjoy...