Political roast brings the heat
This time, state Rep. Bobby Powell Jr. suffered the affectionate torment during the seventh annual Together We Stand Democratic Club (TWS) Community Roast.
Powell's roasters shared stories about his terrible driving, his singing to eggs in the middle of the night, and his wearing Scooby-Doo boxers. He even suffered jokes about the size of his head.
"I'm here to celebrate Bobby Powell, who used to work in West Palm Beach when I was in the city commission," said West Palm Beach Mayor Jeri Muoio before things got underway. "He was a planner there and is a great guy. He's a really good representative for us in Tallahassee."
Powell's tormenters were not so kind, however, during the Sept. 26 fundraising event at the Airport Hilton.
"He's an athlete, all the pride is in himself, being in shape and everything," said Delray Beach Commissioner Al Jacquet, one of Powell's roasters. "But I've never seen him eat a vegetable in his life. Never. Earlier he took the salad, returned it and said 'Bring me some chicken'."
Powell himself has handed out much "abuse" during past gatherings of the organization that was established in 2006 "to enhance the quality of life for minorities, politically, educationally and economically," said Joseph D. Anderson, the club's president.
Other honorees have included Port of Palm Beach Commissioner Jean Enright, former state Rep. Mack Bernard, Martin Luther King Coordinating Committee Executive Director Edith Bush, Palm Beach County Commissioner Priscilla Taylor and West Palm Beach Commissioner Sylvia Moffett.
This time the former roaster became the roastee. Powell was the butt of jokes from State Attorney Dave Aronberg, state Rep. Dave Kerner, Jacquet, and even a surprise roaster  Bush, his aunt. "On the Pro Wrestling Institute 500 team," Bush said, "his name is Bobby Sanders, but they call him B.S. for short. I said that it means 'Bible Student'."
"I want to apologize for my attire," Kerner quipped. "My attire is a reflection of Bobby's humility. Because about three months ago he called me and said 'Hey Dave, real quick…I need you to roast me. It'll take five minutes. Just come and go there's not going to be a lot of people.' And there's 120 people here."
"Bobby cares, he really does," said Jaquet, after the roast. "Here's a guy who ran our district office and I had people calling us, crying, and thanking us on how much he paid attention to their issue. He'll call them back and you don't find that often."
On hand was TWS founder James Drayton, who underscored the organization's goals of promoting voting and interest in the Democratic Party.  Retired Judge Edward Rodgers issued a strong "Call to Action" as part of the event. "I'm not happy about the relationship between police departments and the people," he said. "We need to do something about that if we're going to represent people and do things that they want done." 
Among the current or aspiring elected officials invited to introduce themselves by West Palm Beach Commissioner Cory Neering, the master of ceremonies, were Taylor; Moffett, Bernard, Supervisor of Elections Susan Bucher, County Commissioner Paulette Burdick, Riviera Beach Police Chief Clarence Williams, Pahokee Commissioner Allie Biggs and Palm Beach County Sheriff candidate Alexander Freeman.
"Bobby makes his voice heard in Tallahassee," said Bush before the event began. "I admire him because he promotes and supports young black men and women who aspire to run for political offices."
She said that both her King organization and TWS "support the ideas and principles of the Rev. Dr. Martin Luther King and President Barack Obama." Paraphrasing King, she added: "We Democrats will either work together as brothers or perish together as fools."
View Comments (12)
About the Contributor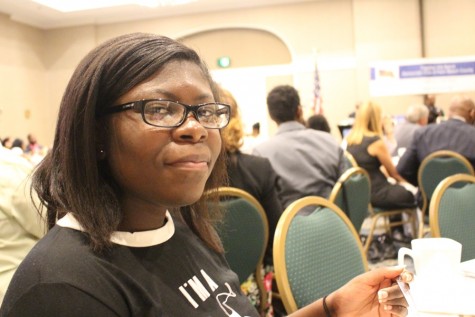 Shirley Pierre, Co-Editor-in-Chief
Hello, I am Shirley Pierre, a senior in the Journalism Academy, also an editor-in-chief and videographer for GroveWatch. In my last year I also want...