Canes support Pink Strydes
Breast cancer survivors again joined the professional models strutting the runway during the 4th annual Pink Strydes Affair Fashion Show fundraiser at the Palm Beach County Convention Center on Oct. 3.
The gala event featuring top local fashion designers has become a tribute to Vanessa Robinson, who as founder of the nonprofit Pink Strydes organization championed its mission of finding a cure, and supporting survivors, before she herself lost the fight in 2014 at the age of 42.
The event also celebrates the lives of breast cancer survivors. Many are everyday women and men of all ages, ethnicities, shapes and sizes, who celebrate by showcasing the latest in fashion.
"You have one life and you have to live it," said Coco Brown, renowned American actress, comedian and celebrity host of the show. "You don't apologize to anyone for being you."
Organizing the event this year was "a long hard road," said Pascale Bonnegue, Pink Strydes' chief operating officer.  "I believe in what I do and I'm passionate about it and I'm happy that it was a success."
A special Pink Strydes feature is having cancer survivors join the professionals in modeling the designers' latest fashions.  "My faith, hope and desire to survive helped me," said Jeanette Rivera, who added that her four children and grandson "inspire me every day to live." More of their stories can be found at the pinkstrydes.org website.
"The entire experience was humbling, being able to work directly with the breast cancer survivors," said Candace Newell, stage manager for the show. "They are so inspiring and it was a pleasure to be their coach."
Once again this year, Inlet Grove Community High School Journalism students joined professional photographers as "guest paparazzi." Inlet Grove Medical Academy students also served as volunteers this year, helping with various aspects of the event.
"The show was amazing as usual," said Brown, the celebrity hostess. "As long as I'm alive I'll be hosting this event for Vanessa."
Leave a Comment
About the Contributors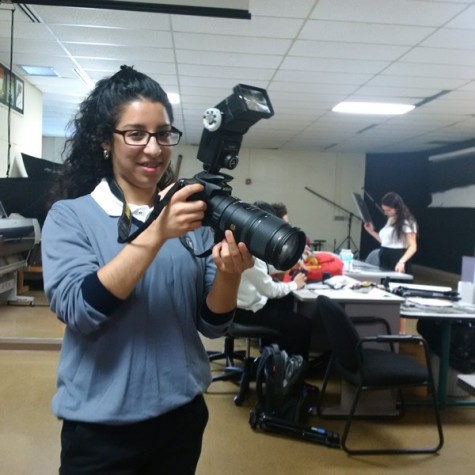 Angie Garcia, Co-Editor-in-Chief
Hola! I am Angie Garcia, a senior in the Journalism Academy, and one of the cool editors-in-chief of GroveWatch.com. I also am editor for the third consecutive...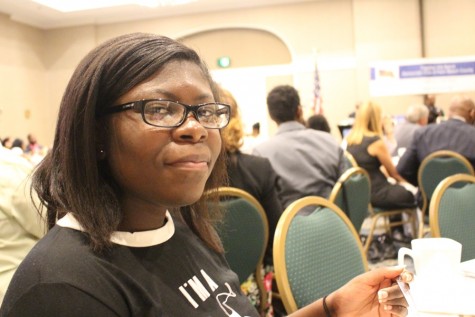 Shirley Pierre, Co-Editor-in-Chief
Hello, I am Shirley Pierre, a senior in the Journalism Academy, also an editor-in-chief and videographer for GroveWatch. In my last year I also want...