Signing Day: Jordan Hall
Girls' soccer player Jordan Hall committed to Brewton–Parker College during a Signing Day program at which she was honored by fellow team members, coaches, faculty, family,and friends in the Media Center, Feb. 7. Coach Timpson planned and coordinated the event, which was full of tears of joy, laughter, and celebration.
First, everyone was allowed to give Jordan well wishes.
"I'm Auntie Niesha," a relative said. "I'm so proud of you. You've came a long way from back in the day at the Boys & Girls Club. But I'm extremely proud of you and I love you."
"Love you too," Jordan said.
"I'm proud of you baby," her grandmother said. "Just know grandma's going to be sending you them dollars."
"I'd like to say that I'm going to miss your leadership," said Grace August, member of the soccer team. "You were one of the best captains that we've ever had at Inlet Grove that I've ever actually listened to, because you know I can be a little hard headed. I'm proud that this is your special day and I'm so happy for you. Go big or go home."
"You're like my daughter," said Coach Donovan, "I've seen you from the first time you came in my class and I've watched you grow over these 4 years and the hard work that you put in and the effort you never for one second ever failed to live up to. I know that there's  great things in your future and you are going to make everybody, your family, your friends, us here at school proud of you. Just don't forget us.  Come back and visit. Know that everybody here is 1,000 percent behind you. Good luck, love you, and congrats"
"Love you mom," said Jordan.
"Don't tell anybody I cried," said Coach Donovan.
"Oh, I'm never letting that go," said Jordan.
"I don't know what else I can add to that, but gorgeous, you have been such a joy in my life every day I see you smiling and get to hug you," said Ms.Pientka. "I've been so proud of you from the day you stepped into my class as well, but every day I get to see you out in the hall and I get to hug you and say hello is a joy, so come back 'cause I want more hugs."
"You can carve these beautiful pieces of art into this beautiful sculpture out of this material," said Mr. Lopez. "When I saw Jordan; I knew there was no words to describe what she could possibly do if she had the proper resources, the proper training, the proper exposure. This is just the beginning of your journey and we just want to be that little stepping stone in all the mountains that you come to climb. We have great expectations for you and we're extremely proud and I know this is just the beginning, so you already have a fan club here."
"I'm Coach Baker; I met you and your sister when you were 6 years old. I immediately fell in loves with you," said Coach Baker. "You're athletic, smart. I will always be here for you. When you fell at Regionals at Coconut Creek, I was the one that picked you up and told them don't touch you. I will be your life coach, you can call me anytime, and I'll do what I can to make it happen athletically, life, anything. Just give me a call."
"I'm so happy for you. Even before I knew you as a person, I always saw you and I was like I know she's going places," said Flo Francis. "I always admired the aura, the presence that you held. You always held yourself up and I always looked up to you. You're a really good role model and in track season, I always looked up (to the fact) that you always had to finish. And I'm very proud of you."
"I thank God so much for blessing you in my life 'cause you've been there for me through some things and I've always admired you Jordan and how you're so driven and know what you want,"  said Kennedy English, member of the track and soccer team. "You also inspired me, even though I'm not doing so well in school right now, but you always inspired me to be better in school and sports. I just know that you're going to make it.You're such a beautiful person and everyone that meets you is flourished."
"I just want to say congrats to this young lady here," said Coach Gregory, coach of the girls' soccer team. "She deserves all the attention, everything that's coming her way. She absolutely deserves to have it. I actually met Jordan 4 years ago when I was actually coaching at another high school and it's not something like I've ever done, but I actually asked Jordan if she'd considered transferring to that school. Funny enough, I ended up at this school a 2 years later to coach her last year and this year and as all the girls can tell you, she's been exactly what this program needed. She is going to be stepping into a bigger pond where she's going to be looked at with a lot more scrutiny. Are you ready for that? Because high school will no longer be important. I know this day is for her to enjoy and for all of us to be supportive of her so thank you."
"Thanks here coach," said Jordan.
"I just want to say  good job Jordan, most importantly, because when I first met you in middle school, I'm telling you this girl was a beast in middle school," said Danica Jean, member of the soccer team. "As soon as I saw her out on the field she was always quick with the ball.(She) always wanted to learn, always wanted to shoot, and all of this stuff and now that we get into high school, she's leading everyone as you can see here. One of our favorite things to do is 'girl talk 'and that's where I really have fun with the girls and get to know them and we have a lot of fun so I'm really going to miss you 'cause I don't want to let you go and I love you so much."
"Thank you," said Jordan Hall.
"I'm Jordan's big brother," said her brother.
"Not by much," said Jordan.
"We've been through a lot. I pushed Jordan to the max. I'd do anything for this girl and my other sister. I'm really excited and proud for you. My heart is like racing right now. Congratulations. I love you. You're my all," said her brother.
"Love you too bro. Don't cry," said Jordan.
"I'm not," said her brother.
"Well from the Davis clan, you know I love you. We're all proud of you. You know I'm your other daddy. I'm extremely proud of you. And you have some other ones trying to follow you. We love you Jordan," said her family
"I love you too," said Jordan
"Jordan you have been such an inspiration to this family. You've shown no matter the obstacle that you can overcome them and I'm so glad that we all have somebody to look up to, to follow, and point to and Jada's going to be next and we can say 'hey, look at what they're doing and you can do it too'. We love you Jordan," said her family.
"Jordan, I just want to say thank you. When I walked onto this team I didn't really know what to expect and then I saw you and I was like that's something I want to be like. You made me think about soccer in so many different ways and really inspired me to be a better player," said Aaliyah Carrydice member of the soccer team.
Hall went on to sign her commitment papers to the college of her choice and also revealing it to the audience while being applauded with congratulations.
"Now the moment of truth. She has two copies that she has to sign and then her mom will come," said Coach Timpson.
"I don't want to cry," said her mother.
"Mom, don't cry," said Jordan.
"Before I sign these, I need you to know how proud I am. I told you from day 1, you could go to any school you wanted to go to. It was your decision, even though you made us all wait 'til today. Self-included everyone. I did not know where she was going. This is one of my proudest moments is to sign these papers and allow you to go where you choose to go. Where you can fulfill your dreams and play for the school that you chose and not one that chose you because that felt like you added to them , but you chose this school because you felt like you were going to add to them.  Okay," said her mother.
"Love you mom," said Jordan.
"So for the moment of truth y'all," Jordan said.
"You ready," Jordan said.
"Y'all sure?" Jordan said.
Jordan was applauded and celebrated as she unzipped her jacket revealing her BPC t-shirt.
"In the fall, I will be attending Brewton-Parker College in Mount Vernon, Georgia," said Jordan.
Hall went on to give her commitment speech.
"I told myself I wasn't going to cry, so I'm not. First I would like to thank God because without him when I hit my bottomest point, like a month ago, when I thought I wasn't going to be able to sign, He gave me hope and this college found me and I fell in love with it (and) the coach. My mom loved it. I knew that this was the college for me. And I'd like to thank my mom because (of) all those long drives to practices and stuff and to another practice and then games on the weekends. It really paid off. Everything I do is for her because you're my motivation mommy and one day I want to really make you proud so you don't have to worry anymore. I'd like to thank my family because I've been so blessed to have a family and such a good support system with every choice that I make. I know that every decision that I make today, you guys are going to stand behind me 100 percent even if it wasn't the college they wanted.I just love each and every one of you so much for being here because this means so much to me. Thank you," a tearful Jordan said.
Coach Timpson presented Jordan with her first gift, Jordan's new college jersey. It was number 6 just like her Inlet Grove jersey.
"This first one was tricky. I thought I was being real slick and I called her coach over at Brewton-Parker College and I told him I needed him to send me her jersey so I could have her picture in it. And he said 'Oh, by the way, she's here.' And I was like 'I hope I'm not on speaker phone because I didn't want her to know about.' So he sent me the picture and were able to get it blown up so this is Jordan," said Coach Timpson.
"Just for the record, it's Brewton-Parker Christian College. Jordan actually chose a private school to go to out of UCF, FSU, LSU, Saint Leo, University of Louisiana, University of Alabama," her mother said.
"Did you miss any?" said Jordan.
"I think there's a few more, but just to show you the importance of her decision in choosing a school that she felt most comfortable at. We're so proud of you," her mother said.
"Thank you, "said Jordan.
Coach Timpson went on to present both Jordan's Inlet Grove jersey, which became the first ever to be retired
"Okay, presentation number 2. You all know her and you love her and she's one of the toughest people I know. We had a brief conversation about her jersey and so I tried to play it off like, "Jordan we're not doing anything with your jersey," said Coach Timpson.
And she's like, "Why? You need to retire my jersey," said Coach Timpson.
I said, "Jordan, we're not doing that," said Coach Timpson.
I said, "Jordan, I was fortunate enough to make the NFL, but they didn't retire my jersey." said Coach Timpson.
She said, "Well your school did you wrong," said Coach Timpson.
"And in typical Jordan fashion, I just kind of played it off. With a little work and a little creativity and after talking with several people, including the founder of the program, and I want to certainly give credit to Mr. Lopez for having the vision to start the soccer program. Without that, we wouldn't have this right now. Give him a round of applause.(I was) talking with Coach Gregory, because you have to be very careful with these things because you're setting the precedence for how things are going to go. We agreed that she personified a first-class organization that we would like this program to be, a first-class part of the athletic program that we would like to have. She personified all those things so we thought it was appropriate to, in fact, retire her jersey. So without further ado," said Coach Timpson.
"Wait, so you really went through all that much for nothing," said Jordan.
"All that much. And so her jersey is officially retired," said Coach Timpson.
"I can't believe you put up all that fight," said Jordan.
"We good now? "said Coach Timpson.
"No, I need to admire real quick," said Jordan.
Jordan hit the edge of her jersey frame
"I ain't got no more," said Coach Timpson.
"It didn't crack. Y'all got that good medal, not the cheap one," said Jordan.
"You done?" said Coach Timpson.
"No," said Jordan.
"Why don't you parade it around?" said Coach Timpson.
"No, cause I might drop it," said Jordan.
"Jordan is obviously the first, through this program, to earn a scholarship and hopefully that will inspire a lot of ladies to follow through and do the same thing. It's a lot of hard work, a lot of effort, a lot of determination, a lot of commitment. She certainly has done that and has shown herself to be faithful with all. So with that, we have cake. Miss Jordan, you can have the first piece. You didn't tell me all these people was coming so I'm not sure how much is going to make it. You better slice it thin. Okay? But you get a big piece and everybody else? You're on your own," said Coach Timpson.
Coach Timpson went on to tell Jordan that she could take her retired jersey home and that the picture of her in her new college jersey would be going up in the school in there new 'Wall of Fame'. Which is, "for those who are fortunate to go on to the next level? You're the first," said Coach Timpson.
 The cake was then served and everyone gathered around for pictures. Congratulations Jordan.
Leave a Comment
About the Contributor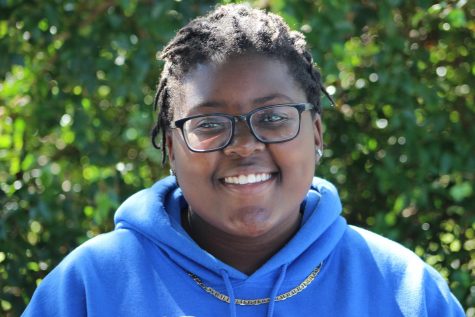 Brianna Luberisse, Editor-in-Chief
My name is Brianna but you can call me Bri or B. I am a Senior in the Journalism Academy. Aside from belching Beyonce songs, I like to help people, take...